Introduction
Are you planning to start your Heating, Ventilation, and Air Conditioning (HVAC) business? Are you someone who has worked in the HVAC industry for some time and now wants to start your own company? Or are you someone who has decided to start a new business but has no idea how to get started?
If you answered "Yes" to any of these, this article will help you get a clear idea.
What is HVAC?
HVAC is Heating, Ventilation, and Air Conditioning. In simpler words, the HVAC business means providing air conditioning services to residential or commercial buildings.
How to start an HVAC business?
Here is a step-by-step guide to starting an HVAC business.
Step 1: Understand Your Business
Like any other business, starting an HVAC business also needs a thorough knowledge of the industry. If you have been in the industry for a while, you might be well versed with the technical work involved in an HVAC business. But from the perspective of an entrepreneur, it is good to have a general idea of how to start an air conditioning service business.
This means having a clear idea of what you will offer as services, the ideal market for you, and if you will offer services only or products as well. So take a pen and paper and start your research and analysis to figure these out.
Share your ideas and plans with your family. Because starting a business also means some personal sacrifices and financial ups & downs. Getting your family on board will help you receive their support, and a well-informed home environment means fewer distractions while running your business.
This is a crucial step to take before getting started. Cash flow is the money going in and out of your business. Cash coming in is what your customers will pay you. Cash going out is the payment towards employees, rents, tools, inventory, etc. To make things more convenient, open a separate bank account in the initial stages of planning your business. This will help in saving some money and inculcate a habit of mindful spending.
The first few months of running a business are going to be difficult. Keeping track of all the payments is a tedious task, and this is where OkCredit comes in handy. OkCredit is a digital ledger book that helps in managing your account book plus Hisab Kitab digitally.
Step 2. Create a Smart HVAC Business Plan
Having a clear business plan is like a roadmap to running a successful business. This will give you a clear idea of where you are going, how to plan your HVAC business model, what should be the next move, how you are getting there, etc. A smart business plan should cover all the basics needed to run a successful HVAC business. Having a well-researched plan also helps you get funding from a bank if you need it. Remember, your plan is going to set the basis of your business. So take as much time as you need to create one.
The company description is the outline of your company details. Where your company is located, what services or products you offer, number of employees, what you want to accomplish in the next few months, etc. Decide on a name for your company and what structure you want for your company if you want to run a company in partnership or solo.
Write down the mission and objective of your company. This will help you set strategies to reach your goals.
Market analysis gives you a detailed overview of the industry or market you intend to provide your services or products into and what your target customers look like.
The analysis includes:
Target Clients - What do your potential clients or customers look like? Do you want to serve individual homes or corporations?
Competitive analysis - Analyse your competition. Find out which companies provide the same services as yours.
SWOT analysis means analysing your strengths, weaknesses, opportunities and threats from the market and within the business. Your strengths could be the exclusive product or service you can offer. Or your previously established customer base. This can be your friends, acquaintances, etc. Your weaknesses might be marketing or financial planning in the beginning.
Opportunities or threats are external factors that you can not control. For example, new prospects coming in or increased competition in your area.
Service or product analysis
In this, you analyse what services or products you will offer your clients or customers. What are your areas of expertise, new installations, or repair services? Another important thing to include in this is how you price your services.
This will be an outline for your HVAC marketing plan. Marketing strategy includes how you will reach your potential customers, how you plan on establishing your online presence, etc. It is also essential to establish a budget for your marketing plan—more on this in Step 3.
A financial plan is one of the most crucial steps to start and run a successful HVAC business. A vital step in creating a financial plan is to determine your start-up cost. If this seems overwhelming, hire a professional to help you with this. The plan should include:
Balance sheet - This sheet shows assets, liabilities, your investments, etc.
Cash flow analysis - This is where you will calculate your money going in and out. Your goal while calculating this should be to have sufficient cash to start and run a successful HVAC business.
Profit and loss analysis: This sheet will include the costs incurred in your business a few months after getting started.
This section will include all the documents you will need, such as certifications, licenses, and other legal documents.
Step 3: Create A Killer HVAC Marketing Plan
Your marketing plan will depend upon the market analysis you did in Step 2.
Remember, you might be offering the best services and products in the world, but your business will not take off if you don't strategise your marketing well.
A sound marketing plan starts with a sound financial marketing budget. While creating a budget, consider all the channels you are going to use to promote your business. This includes a website, SEO, paid ads, banners & flyers, etc. And to be on the safer side, add 20-30 % more to account for unexpected expenses in your budget.
Here are the various channels through which you can market your business.
Word of mouth is the most effective marketing strategy in India. Encourage your customers to refer your product and services to others. You can also offer referral points to make this strategy more effective.
Digital marketing includes setting up your website, optimising it for local SEO, increasing brand awareness through blogs and social media platforms, and running paid ads on Google and Facebook.
Offline networking is as important as social media. Your network of associated brands and competitors will help you take your business to the next level.
This includes publishing flyers and banners and advertising in local newspapers. Print media is the traditional way of marketing that still works. A killer marketing plan will help propel your brand's awareness and, ultimately, a successful HVAC business.

Step 4: HVAC Licensing and Documentation
Here is the list of legal formalities you will need to complete before going on the floor.
Registration of your company
Depending on what kind of business you want to run, such as a Limited Liability Partnership (LLP) or Sole Proprietorship, you will need to register with the Registrar of Companies.
As a business owner, you will have to register your business to get the Goods and Services Tax Identification Number (GSTIN). This is a unique registration number assigned to all business owners and is a fundamental requirement of setting up a business.
Any business that can generate pollution and waste needs a Pollution certificate from the State Pollution Control Board.
This is needed only if you want to enrol in any Government schemes for your HVAC business.
Step 5: Setting Up Your Business
The next step in setting up an HVAC business focuses on equipment and employees.
Equipment required for HVAC business
A few basic electrical types of equipment is required in an HVAC business, such as screwdrivers, pliers, leak detectors, gas and air measurement equipment, wirings, duct tape, capacitor tester, and pressure gauge. Other than this, you will need safety gear for your employees and transport vehicles.
Employees for HVAC business
Any HVAC business needs staff. And as you acquire more customers, you will need more staff to deliver your services on time. Always hire certified and experienced people. And make sure they follow all safety measures. Managing a team can be a daunting task initially, but OkStaff can help you do it smoothly. OkStaff is a free-of-charge staff management app that lets you manage your employees' payments, attendance & more!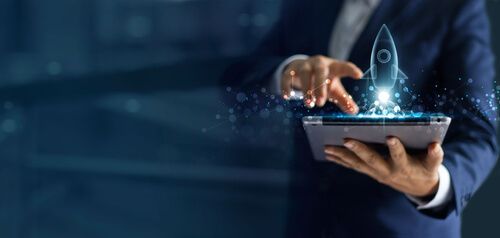 Step 6: Launch Your Successful HVAC Business
Now that all strategies and plans are in place, you are ready to kick off your HVAC business.
Throw a launch party, invite all your friends, relatives, and acquaintances. Offer some referral points. Ask your friends and family to join your Facebook page, send referrals, engage with your social media profile, etc.
Once you start your HVAC business, have some money reserved for when things don't go well. Observe your expenses, understand what business activities are adding value and which ones are not, and standardise processes where possible.
Final word
Starting and running an HVAC business can be a daunting process initially, but it is a profitable business in the long run. So just stick around and give it your best shot. And to ride smoothly on this journey, you can use OkCredit and OkStaff apps.
Also read:
1) Best Tips for Customer Retention for a Small Business
2) Tips to Understand Your Market while Starting a Small Business
3) Tips for Businesses to Overcome the Covid Blues - Revival Tips for Businesses
4) What are the keys to success when operating a small scale business?
5) OkCredit: All you need to know about OkCredit & how it works.
Stay updated with new business ideas & business tips with OkCredit blogs in English, Hindi, Malayalam, Marathi & more!
Download OkCredit now & get rid of your bookkeeping hassles.
OkCredit is 100% Made in India.
FAQs
Q. How to get customers for the HVAC business?
Ans. You can get customers by referrals. Also, work local SEO for your business. This will attract customers in your locality.
Q. When should I scale up my HVAC business?
Ans. Scale-up your business only when the demand for your company has increased, and you can afford to hire more employees.
---