Hyderabad, the city of Nawabs, is the capital of Telangana. Hyderabad is famous for its cuisine, culture, and relaxed, laid-back way of life. However, this laid-back culture doesn't influence the business transactions of the city. Hyderabad's business environment offers plenty of entrepreneurship opportunities.
In a new report by the World Bank, Hyderabad is ranked number 1 in India for the subcategories of implementing agreements and settling bankruptcy in the Ease of Doing Business rankings. It is ranked number 4 in India for the ease of starting a business.
If you have a business strategy and plan to set up your company soon, you must follow the legal steps to register your business in Hyderabad. But before that, you need to understand what type of company you want to register.
Types of Companies for Registration
Private Limited Company Registration: The company enlistment measure is on the web. Enrolling a private limited company requires two investors, among other things.
Limited Liability Partnership Registration: At least two people need to furnish details in a limited liability partnership (LLP).
One Person Company Registration: A one-person company is a Private Limited company.
Nidhi Company Registration: A Nidhi company is an organisation in the Indian non-banking finance area. Their core business is to acquire and loan cash to individuals.
Segment 8 Company Registration: This is enlisted for beneficent or non-revenue-driven purposes.
Basic Legal Requirements to Start a Company in Hyderabad
It is necessary to have at least two shareholders to form a Private Limited company.
There must be at least two directors, and they must be residents of India.
A shareholder should share a minimum capital of Rs. 1 per head.
All endorsers, advertisers, investors, or individuals need to have digital signatures to enlist a Private Limited company.
Legal Steps to Start a business in Hyderabad: How to Register
The first important thing is to meet a legal expert who will help with licenses, confirmations, and enlistment.
The next step is deciding on a company name. You are permitted to send up to six choices of names for the company with the registration form. The Registrar of Companies (RoC) will check the availability of the names selected.
Once done, you need to apply for your Digital Signature Certificate (DSC) and Director Identification Number. The company incorporation process is online. You should also apply for and get either a Class II or Class III DSC for added security.
The next thing you need to do is make a Memorandum of Association and Articles of Association in the recommended format. You should carefully sign these documents for authorisation and approval.
When you have all the documents in order, you can file for incorporation by uploading all the necessary documents through the SPICe portal and paying the handling expenses. At that point, the RoC will check if it can allow your business a Certificate of Incorporation. Your organisation will get a Corporate Identity Number.
When starting a small business in Hyderabad, it is crucial to understand the legal requirements for launching it successfully and in compliance. Once you determine your services and target market and have a company plan or roadmap in place, you will want to comprehend and adhere to the following seven legal requirements.
Fundamental Legal Prerequisites for Business Formation in Hyderabad
1. Make a Business Name Selection
Choosing a name for your firm is a critical stage in the starting process. Since your firm will operate largely online, the name you choose must be available for registration as a business name in your state and the digital world.
It implies that you must determine whether the desired name is accessible as -
Your state's business name
A Domain identifier
A username for each social networking platform that you intend to utilise
If your wanted name is not available as a domain name or social media username, explore other spellings and keep in mind that various domain name extensions beyond the standard ".com" are available. Additionally, it is critical to ensure that your given name and domain name do not conflict with any registered trademarks.

2. Take Care of All Legal Responsibilities
As with a brick-and-mortar firm, you will need to file the necessary business formation forms and other documentation to guarantee your new venture is legally sound. It includes the following:
Obtaining a business license from the proper government agencies
Obtention of all necessary permissions and licenses
Since these regulations differ by state and by your business type, it is critical to research to ensure that you comply with all applicable laws. Again, it's frequently beneficial to speak with an attorney familiar with business starts in your sector to ensure you're on the correct route.
3. Create and Execute Your Pre-Landing Marketing Strategies
It's essential to advertise your internet business concurrently with each of the preceding phases. Your company strategy should have included the information necessary to build efficient marketing tactics for your target market. Whichever strategy you choose, it is critical not to scrimp on implementation.
4. Develop a Basic Year-One Business Plan
Create a single objective for the next 12 months.
Determine the steps necessary to accomplish your objective.
Which tasks or activities will you be required to complete?
Determine which metrics or parameters will be used to track progress. Establish a tracking mechanism for them.
Conduct monthly reviews and challenges.
Even if you are a one-person operation, taking the time to accomplish this forces strategic thought and deliberate action. It will assist you in avoiding being reactive and doing whatever comes your way at random.
It becomes much more critical when you have a team that needs guidance. It will require that background to do their duties effectively.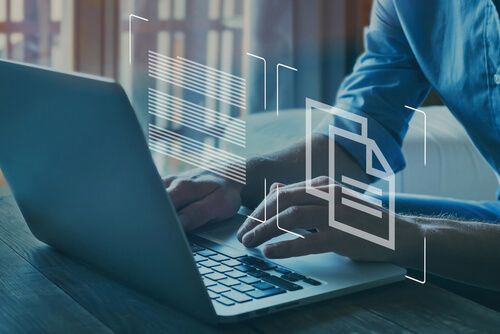 Documents Required for Company Registration in Hyderabad
Email addresses and contact numbers of directors
Photos of directors
Tenant contract of office or any possession verification
Electricity bills of the office
AADHAR card copies
PAN card copies
Summary
Here is a checklist of all the legal steps to start a business in Hyderabad:
Checking the availability of the Company Name
Getting the Director Identification Number (DIN)
Getting a Digital Signature Certificate
Getting an Incorporation Certificate
Getting a Company Seal for official documentation
Getting a Permanent Account Number (PAN)
Getting a Tax Account Number (TAN)
Acquiring an endorsement from the state/Municipal Inspector under the Shops and Establishment Act
Applying for GST Registration
Acquiring a Profession Tax Certificate from the State Profession Tax Office
Completing a National Employees' Provident Fund Registration
You can check out OkCredit, a digital ledger app that can help you manage your transactions while following these legal steps to start a company in Hyderabad.
FAQs
Q. How might I enlist my private company in Hyderabad?
Ans. I might enlist my private company in Hyderabad are:
Apply for Digital Signature Certificate (DSC).
Acquire Director Identification Number (DIN).
Apply for Name Approval with Registrar of Companies (ROC), Hyderabad.
Register with the new SPICe INC-32 structures.
Get a Registration Certificate.
Q. What are the five necessary stages before starting your own business in Hyderabad?
Ans. Five simple steps to establishing your own business:
Define your business briefly and clearly. Your firm should have a distinct point of differentiation.
Recognise the rules.
Create a business strategy.
Determine how you will finance your startup expenditures.
Assess your progress with your plan.
Q. Is it possible to operate a business without registering in Hyderabad?
Ans. It is perfectly lawful to do business as a sole owner without registering your business. You cannot lawfully use any trademark unless it has been registered as an officially recognised corporate entity with your local, state, and federal authorities.
Q. What are the processes for registering a business in Hyderabad?
Ans. To begin the process of registering a business in Hyderabad, the founders or owners must first ascertain the type of the enterprise and its capital requirements. The appropriate company structure is decided by various criteria, including the partnership's nature, financial requirements, and the type of activity.
---