How do I market and advertise my business online using social media, and get leads who buy? Many people feel that their social media marketing isn't working, or people aren't responding to them. Too many businesses run social media accounts without having any idea how to use them correctly.  But don't worry! In this article, we will tell you how to do it the right way.
There are over three billion social media users and people spend a lot of time on social media platforms like Facebook, Instagram, and YouTube. Every 11 seconds, a social media account becomes active. Social media is a great marketing tool to reach out to potential customers.
Paying attention to what people are saying on social media is a great way to ascertain user preference. Some apps and tools have been created to help you study trends on the internet in general, and in social media, in particular. Some of these include BuzzFeed, Feedly, and TwitterTrends.
Social Media Marketing
Marketing is one of the most important channels to reach out to the customer. A report by Statista says that globally internet users spend on an average 144 minutes per day on social networking sites. So, social media marketing platforms provide a great opportunity for brands to reach out to a large customer base.
How will you find your target audience on social media?
Social media isn't going away. Facebook and LinkedIn are full of valuable customer data; so for a small business owner, you must find your prospective customers on these sites.
In this article we are going to tell you the best ways to effectively market your business online, by following these strategies: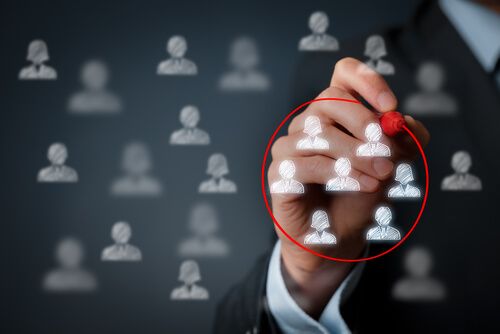 1. Identify a target audience
A targeted audience on social media is a group of people categorised by their demographics and behaviour. By identifying your target audience and knowing where they hang out, you can provide the most relevant content possible. Small business owners can create an ideal buyer persona that will help them in marketing, product development, and sales for their target customers.
2. Put yourself in the Customer's Shoes
Ask yourself what questions your target customers might be having before he makes a purchasing decision. Let us suppose, you own a photography studio, and there is a prospective client out there, who wishes to come for a family portrait. Before coming, this client might open any social media platform and ask questions like 'what is the best time of the year for family pictures, or, 'what do we wear for family portraits?' This allows you to answer your prospect's questions, and look out for buyer intent.
Also, ask yourself if any of your products or services can solve some problems of your potential customers. If you can solve someone's problems, that person can be attracted to your product, and become a loyal customer.
Let me tell you a secret. If you talk about your product instead of your prospect, you are doing it wrong! For example, suppose, you manufacture skin cream, and you want to market it on social media. Many amateurs go out and say that 'Here's why my skin cream is amazing', and 'These are the reasons why we are better than our competitors. This approach does not work anymore, because nobody cares about your product until they know that you care about them.
A better way for you would be to ask, "Hey, do you struggle with acne? Here are 5 things that you could do to get rid of your acne quickly". That would make the prospect respond to your skin cream product without you having to talk about it, and perhaps, putting them off.
3. Start using the 'right' social media
The number of persons using social media is increasing by 9% year-over-year. People get into several social media platforms to get a unique experience out of each of them. If your message doesn't resonate with the spirit of the platform, it won't reach the people they are intended for. Moreover, you will appear outdated.
Try to find out, on which platform your target audience spends most of their time. For example, people go to Facebook to connect with friends and family. So, anything you would like to share here should be thoughtful. Likewise. LinkedIn is a platform for professionals. Posts that are related to a career or business, get viral very quickly here.
4. Schedule your social posts ahead of time
Social media marketers use scheduling tools to save time and costs. When you have the time, you can create a few posts at once, and schedule the release of multiple posts beforehand. The right tools help to connect with your followers in real-time and help in the overall social media management process.

5. Engage Influencers
A social media influencer is someone with an established social media audience, and who can influence other people. The right influencer will create engaging, original content, and can reach your target customer. They can build trust quickly, and recommend your product to the audience.
6. Have a consistent presence
For your audience to recognise your brand, you have to be consistent in social media. By keeping your theme and posts consistent, you can grow your audience engagement and reach. Keep your account updated, and try to know for whom your messages intended. For example, if your target audience is baby boomers, the voice or tone of your messages will be different, than, say, for teenagers.
7. Ask your current customers
The best way to build an audience on social media is to focus on the people who already know you well, your current customers. By sharing content with them, you can grow your customer base. You can use social media data collection fields to know what type of audience is following you on social media.
8. Consumer Engagement
Any small business owner knows that effectively engaging with consumers is important for the success of his business. Proper communication and engagement build up a good amount of trust, which is more vital than the products or services you offer. A great way to communicate with customers on social media can be Facebook, Twitter, or YouTube-is through comments.
9. Story Telling
One of the most powerful tools in social media marketing is stories. People respond to stories that they can relate to, and this is a good way to attract them on social media. You can also post testimonials from people who have got amazing results by using your products or service. Suppose, you sell a weight-less product, and someone has lost a lot of weight, having used it. So, you can share his story about how she is now able to play with her kids. Prospects love these kinds of feel-good stories.
10. Give Tips
You can give tips to attract an audience who is passionate about something. Suppose, you run a clothing store. So, you can post content like "5 tips that men can use to get more stylish". This can attract a fashion-conscious male audience to your product.
Small businesses often become overwhelmed when they try to find new customers on social media. They don't make any real effort to reach out to their target audience. We hope that after reading this article, you will understand the importance of reaching out to your target audience. This is a sure bet that your business would do well.
Also Read:
1) Best Business Ideas for Teenagers
2) What Are Some Business Ideas for Women in Kanpur?
3) Best small business ideas under 50,000
4) OkCredit: All you need to know about OkCredit & how it works.
Stay updated with new business ideas & business tips with OkCredit blogs in English, Hindi, Malayalam, Marathi & more!
Download OkCredit now & get rid of your bookkeeping hassles.
OkCredit is 100% Made in India.
FAQs
Q. What do you need to keep in mind while posting on Instagram?
Ans. Pictures or images are the modes of communication on Instagram. So, your messages or posts should be in an aesthetically pleasing, visual form.
Q. How would you select an ideal influencer for your brand?
Ans. Come up with a list of hashtags that will describe your product. This will help you to select the right influencer. For example, a soap and beauty product's company's hashtag can be #handmadesoaps or #naturalskincare, etc.
Q. Do social media platforms collect user data?
Ans. Yes, If you insert the name of a customer in the designated search box, the search functionality will determine whether or not he/she is an active member.
Q. How effective are the promotional contests on social media?
Ans. Companies have realised that a customer who will buy their product, sometimes need to sample it also. That is why, some brands hold promotional contests, or offer free trials of their product.
---