Table of Contents:
1. Ethnic Clothing Stores Online
2. Is Ethnic Wear Online a Good Business Idea?
3. How To Open An Online Boutique For Ethnic Wear?
1. Ethnic Clothing Stores Online
Ethnic wear is the most vibrant segment of the entire apparel mart in India. Go to any clothing market in India. You just can't miss them! A riot of colours in different hues like red, yellow, or magenta, along with intricate embroidery. -Yes! We are talking about ethnic wear. According to Technopak, the Indian ethnic wear market is valued at Rs 70,000 crore, and at least 70 percent of it is still unorganised. It comprises a wide variety of products-from sarees and lehengas to kurtis and dupattas, and many of these are handmade or handwoven by skilled artisans. The most common ethnic clothing material is cotton, and the most popular colour is white.
2. Is Ethnic Wear Online a Good Business Idea?
Clothing is one of the fastest moving FMCG products today and traditional clothing has always had a special place in the hearts of Indian men and women. Women's ethnic wear sells more than any other category. It has an 85 percent share in the market and is expected to grow at a CAGR of 10 percent by 2022. India has emerged as an important sourcing destination in Asia, with cheap labor and abundant raw materials.
The opportunity in Indian ethnic wear has come to the attention of corporates and private equity investors in the last few years. The premium products in this category are growing at 10 percent. Since this sector does not see any interest from global brands, a lot of home-grown brands are entering this segment.
Online sales are growing, as more and more people want to buy from the comfort of their homes. Many entrepreneurs are taking advantage of the rich textile heritage of India, and launching their own ethnic wear business. During the festive seasons, there is an increased interest in ethnic wear from online boutiques, across all categories. You can manufacture and sell your product, or buy from a large number of wholesalers.

3. How To Open An Online Boutique For Ethnic Wear?
In this article, we will share with you some tips to open an online ethnic wear business, just like Craftsvilla or Myntra. You can start this business from your home. The following guide will help your brand to be a roaring success.
1. Do you have the right skills?
If you don't have a creative background, it would be ideal to have some education in design or garment creation. Even if you want to get clothes manufactured in a factory, you will have to draw a sample, and sew it to show to the factory. Talk with your peers in fashion, before you embark on this journey.
2. Plan your business
A business plan contains details of the various aspects of a business like costing, delivery, and fund requirements. You have to complete all the legal formalities of starting an online apparel store. A good business plan has the following details:
How much you can invest and how much you can expect in return.
Who exactly will buy your clothes, and who is your ideal customer?
Your business model-whether you will manufacture yourself and sell it to wholesalers, or you will retail yourself.
Who you are as a company, including your mission statement and your team.
3. Market Research
Before you start anything, you have to do proper market research. There are two types of market research-one is where you collect data on your own; the other is secondary, where the data is collected by specialised agencies like Nielsen. 'Know Your Customer is the foundation of a well-planned business. Try to find out who the competitors are, and what will be the demand for your products. The middle and affluent classes are driving growth in the ethnic wear segment. You can search for specific items on Google Trends, and see which are popular.
Know your competition is a key part of market research. You have to learn who is buying from them, what they are selling, and what their marketing strategy is.
4. Sourcing
Decide on the amount and the time when you will be sourcing the fabric and other materials. Test your designs, and make a small run before you go in for large-scale production. You have to update your collection of traditional yet trendy ethnic wear with the latest styles very frequently.
5. Product Reach
You should target cities with a mature retail market, malls, and high streets. The global market also has a huge demand for women's ethnic wear. This is due to the fact that many tourists carry these products to other countries, thereby creating awareness.
6. Define your niche
Decide what type of ethnic wear you want to sell in your online clothing store and whether there is a market for that clothing. Your target customers can be men, women, or even kids. Identifying needs and identifying target markets go hand-in-hand because there are specific groups of people who might be interested in your product.
You can also look into niche verticals such as clothing for 'plus-sized women' or maternity wear. If you want to make ethnic wear for boys and girls, it is a good idea to use breathable, organic, and soft cotton. The products can be kurta sets for boys and lehengas for girls.
7. Funding
There are both fixed and variable costs involved in the ethnic wear business. If you don't have the money to start the business, you can ask your family members to help. You have to invest in machinery like sewing machines and manpower like cutting master and tailors. There should be a budget to run your clothing store for at least a whole calendar year. Other investments will include costs incurred on marketing, storing, and delivering your products. You can raise loans for your start-up capital from banks or from any third party. You have to reinvest your profits into the business.
8. Design
The design of your clothing line is very important. Follow the market trends, know your competitors,  and distinguish your product from others. Your merchandise mix should be a combination of low and high-end products that will appeal across income strata.
9. Develop your brand
Your goal should be to develop your brand name in the next 5 years. Pick a brand name that is catchy and attracts your target market. Remember that people will identify you with the name of your brand. It is very important to ensure the visibility of your brand through online portals and social media.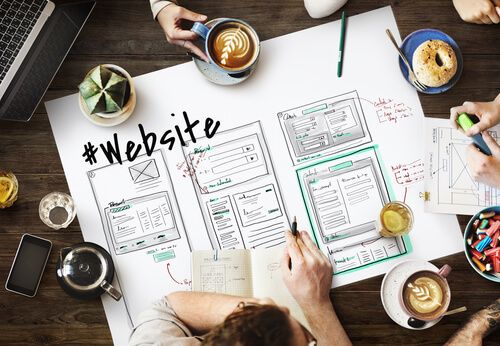 10. Website
You can consult web designing companies to build your website. You can visit other clothing websites to get an idea about how they operate. Besides selling through your website, you can obtain orders through WhatsApp business API. For those people who find online shopping difficult, you can introduce "Order on WhatsApp".
11. Ethnic Wear Online Store Builders
You can try eCommerce platforms like BigCommerce or Shopify. The benefit is that you can build a website easily, and try it out for free for 15 days or more. Payment options are taken care of by these parties.
12. Advertise your clothing business
You have to tell the world about your product; set up your social media accounts and start posting your products online. Run promotional campaigns to boost sales. The easiest way of marketing should be to do among your family members and friends. Some common social media marketing mediums are Facebook, LinkedIn, and Twitter.
Despite the fact that there are thousands of apps and websites dedicated to clothing, there are many enterprising businessmen who have started new fashion ventures. The retail market has seen a fundamental shift during the pandemic. So, opening an online clothing store can be a great investment as there will always be a demand for new styles.
Also Read:
1) Which services are the most in-demand that small businesses can take advantage of?
2) How to Open a Small Pet Shop?
3) How to Get A First-time Business Loan: The Ultimate Guide
4) Best Kids Clothing Brands in India
5) OkCredit: Simple, Paperless & Secure solution for businesses
Stay updated with new business ideas & business tips with OkCredit blogs in English, Hindi, Malayalam, Marathi & more!
Download OkCredit now & get rid of your bookkeeping hassles.
OkCredit is 100% Made in India.
FAQs On Ethnic Wear Online
Q. Is it important to test your ideas with a Minimum Viable Product?
Ans. Yes, Suppose you make a production run for 30 skirts. If no one buys it, you will lose significantly less, than if you had made 300 pieces.
Q. What are Online Store Builders?
Ans. They are drag-and-drop tools that help in creating a beautiful and functional e-commerce site.
Q. Can I use YouTube as a medium of marketing?
Ans. Yes, You can make a good video of your product collections, and also include your website details.
Q. What time period should my business plan cover?
Ans. Usually, a business plan covers the first three to five years of a business.
---