When customers use and return a gadget after using it only for a few days, and it has a minor defect, it can be refurbished and sold again. Refurbished gadgets give a great deal of value to people because they are sold at a fraction of the price of a new one.
The refurbished products business has been slowly picking up pace, and the refurbished gadgets market in India is valued at four billion dollars. Many players including eCommerce businesses are entering this field. According to a study by Counterpoint Research, the refurbished smartphone market in India grew by 9% in 2019. The market is still unorganised, with lots of growth potential. This business facilitates a circular economy with continuous use of resources.
The Covid-19 pandemic's economic effects are forcing consumers to tighten their budgets worldwide. Some potent factors pulling traction towards refurbished gadgets include the rise of eco-conscious land frugal lifestyle choices among working professionals, homemakers, and startup entrepreneurs.
Used products and refurbished products: Are they the same?
No. Firstly, refurbished products are quality checked, and if any minor repair needs to be done, they are attended to. Used products, as the name suggests, have been used by their owners for a few years. They are not checked. Secondly refurbished products carry a warranty and a quality certificate. You will not get such things with used gadgets.
How to Start a Refurbished Gadgets Business?
Starting a refurbished gadgets store is a way of reducing e-waste and having a social impact. First, learn about the gadget which you want to trade. Then do market research about the demand for the product.
A refurbished store works in 3 simple steps:
Source for old gadgets from suppliers. See that they have only minor defects like scratches.
Refurbish them so they are in great condition. You may have to improve some parts, and they will be as good as new.
Sell them to customers with at least six months warranty and at low price points. The selling price typically ranges from half to 70 percent of the cost price.
We will discuss the above points in detail below:
1. Sourcing
You can approach the stores selling new gadgets. Very often they have returned goods lying with them. Sometimes customers return products without using the item, or even opening the packaging.
Some goods might only have the outer packaging damaged, and some may be old because they had been lying on display for a long time. These are the gadgets which will have minimal damage, and you should target to buy them.
You can also pick up used products like TV from the houses. You can advertise your requirements in the newspaper, on the internet, or through social media groups.
Make sure you do a thorough quality check before you pick an old item. Avoid buying items whose batteries are difficult to replace. And if you are buying cell phones, preferably avoid buying items of lesser-known brands that are more than six months old. Down the line, you might find it difficult to get spares.
Many people have a concern about data security while selling their old computers or phones. So, you have to be careful about wiping away their old data before selling them to a new customer.
2. Refurbishing
After purchasing a used product you have to fix and test them with professionals.
Transfer all the products through a de-dust window.
Clean and sanitise them.
The product is disassembled into its parts, and a diagnostics check is carried out for all the parts. All accessories are checked to see if they are functional.
If there are any problems, then repairs are carried out, like fixing broken screens for example.
Re-painting is done if required.
3. Selling
You can give a certificate that the gadget has been refurbished and it is genuine with good and 100% working condition. To help consumers gift their loved ones you can offer some refurbished gadget deals on lightly used products. Another way to attract customers in a tight market is to offer a 'buy now pay later' plan.
It is important to market your refurbished gadgets and gain the trust of your target customers. One way of doing this is to put out some good reviews of your users on the internet.
You should put a return or buy-back policy in place, so that if a buyer is not satisfied with your product, he can return it within a fixed time, say 30 days.
Here are some refurbished business ideas for gadgets:
1. Refurbished Electronics Store
As the Coronavirus has disrupted supply chains across geographies, many electronics suppliers have struggled to meet their production targets. Manufacturing new electronics is also a polluting and unsustainable process. But there is a huge demand for these gadgets from students who are studying online, to staff who are working from home.  
The sale of refurbished tablets and phones is a highly profitable green business idea for an entrepreneur. Other electronic gadgets that can be refurbished and sold include blenders, printers, consoles, etc.
There is a great deal of misconception about refurbished electronics, like a lack of authenticity and quality. To clear these apprehensions in the minds of potential customers, you have to get the gadgets thoroughly checked by a professional after you purchase them.
The technician will examine the various parts like battery, buttons, hard drive, etc. Sometimes it could be a bad circuit board, which he would repair. Then, you can give grades to the electronics based on their accessories, use, and wear and tear. Grade A can mean that the item is spanking new, B means it has got a few scratches, and so on. So your customers will have a lesser chance of facing any problems, after buying from you.
2. Refurbished Computers
There is a huge global market for refurbished computers or laptops, including accessories like mouse, monitors, and keyboards. You can also source used networking equipment that is used for transmitting data. While buying used computers do not buy too old products. If you are unsure about its age, you can note down the CPU number and do some research on the web.
You might have to do some small changes like replacing the hard drive or adding some more memory.
3. Refurbished Medical Equipment
Refurbished medical equipment are devices that have been restored through the repairing or installation of certain software. These include operating tables, stretchers, patient monitors and accessories, etc. Constantly changing technological trends are giving a boost to this market.
Online Store for Refurbished Gadgets
You can expand into the eCommerce space by starting an online refurbished gadgets store. You can purchase and sell second-hand gadgets like laptops, smartphones, gaming consoles, or tablets from the comfort of your home. But you have to set up a quick payment system over the internet and take care of logistics like shipping.
Below we describe some smart refurbished business ideas which you can easily accomplish online:
1. Smartphones
Google has started to offer refurbished Pixel 3 phones through its online store at $ 249 instead of the official price of $ 349. There are also some Chinese phone manufacturers, whose products may be cheap but not very durable. Lots of customers return them after using them only for a few days. As per market research, entrepreneurs expect the refurbished smartphone market in India to be reaching $ 45 billion by 2025. All these indicate that it is a very profitable business to start.
You can start a refurbished smartphone business online by buying and selling them at discounted prices. For this, you have to contact a manufacturer and purchase them in bulk. Companies often upgrade their models or close down an existing business, creating an opportunity for buying phones cheaply.
You have to upgrade your knowledge about the restoration of smartphones. And, since repairing them requires profound technical skills, you have to hire a skilled technician.
2. iPads
iPads are on the wish-list of every gadget freak. Further, the rise of remote working has facilitated a rise in the demand of iPad users. being the new norm, more and more people are using them. Buying and selling refurbished iPads to those whose budgets are tight, are a great business idea. You have to clean and repair the old product, and maybe install a new OS.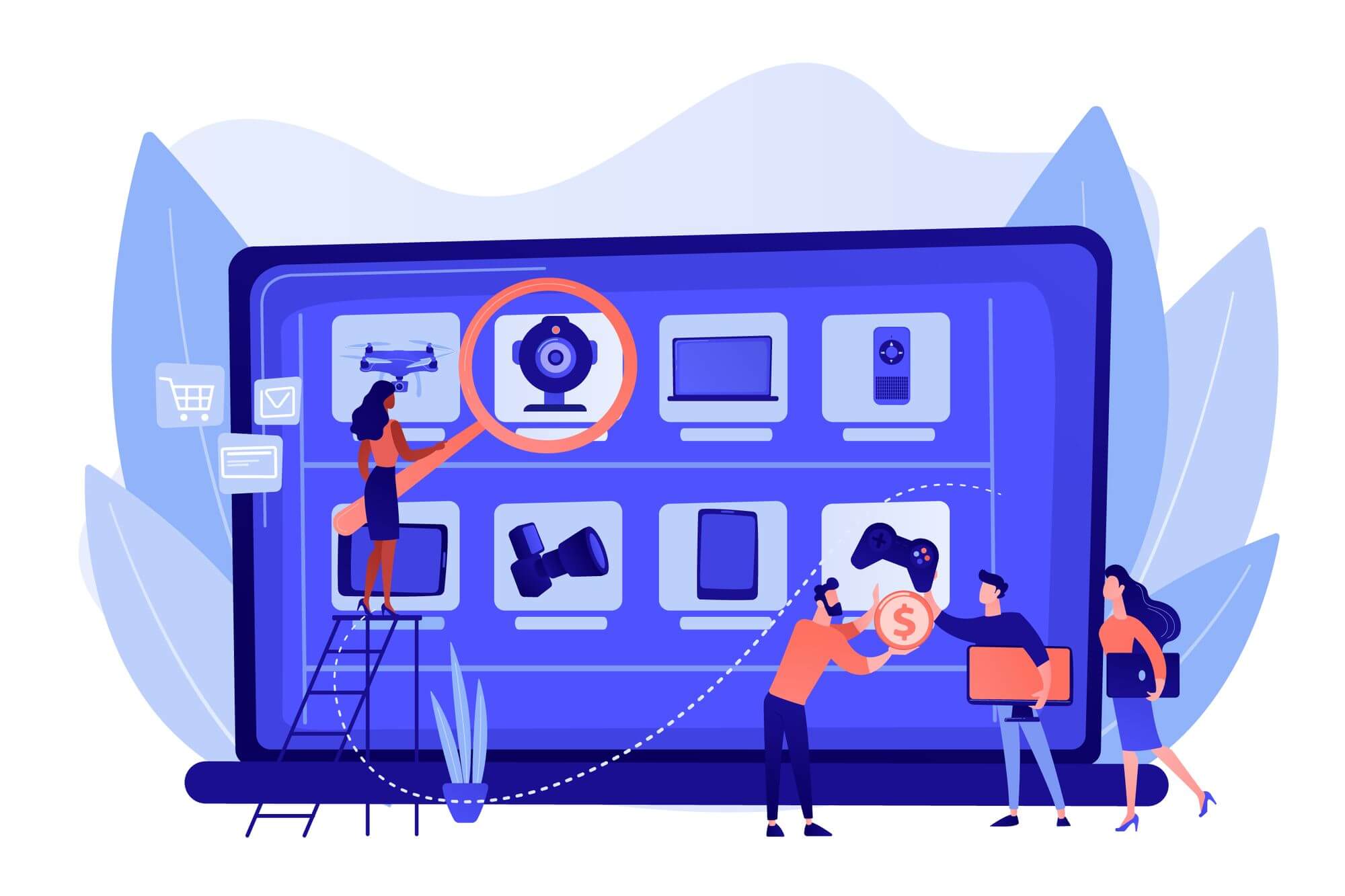 Opening a refurbished gadget store certainly offers good prospects for an entrepreneur. Refurbished gadgets have caught the fancy of the Indian consumer and are becoming a rage in the market. Millions of devices are discarded every year and are up for grabs. You just have to find the right supplier and the right customer.
Also read:
1) How to start an electronics store?
2) Which city has the best electronics market in India?
3) How to Start an Online Pet Supply Store?
4) How to start a grocery store? Business plan for starting a Grocery Shop
---