As per the recent survey and research done by one of the Big 4 organisations, 1 in 3 customers leave a business they prefer or love after just one bad experience. On the other hand, 92% of customers completely abandon a business after two or three negative interactions. So, it is vital to build your business or marketing strategies based around a customer-centric approach to enhance productivity, customer engagement, and business opportunity. You might be thinking about the exactness and challenges of the customer-centric approach and how to adopt it. Check out the detailed article on the need for a customer-centric approach, the challenges businesses adopt, and how to adopt the best four customer-centric strategies effortlessly.
What is the Customer-Centric Approach?
The customer-centric approach or client-centric approach is a business strategy carried out by different businesses that prioritise customers. Under this business strategy, the organisation drafts and implements various business strategies, such as marketing, branding, or sales strategies, to provide the best customer experience to build a long-term relationship with the customer. Did you know that the customer-centric organisation was 60% more profitable than companies that did not follow the customer-centric approach? So, it is significant to adopt a customer-centric approach and strategies to become a successful and leading company in any domain. Organisations and businesses must undergo a huge paradigm shift in business, working style, organisation structure, training, and culture to adopt the customer-centric approach.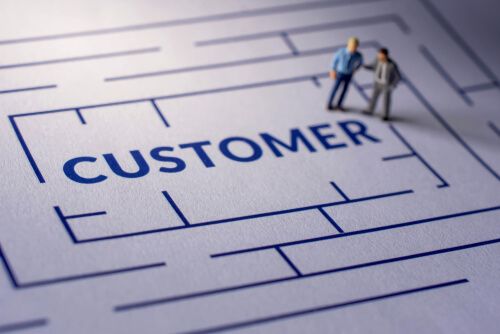 Challenges Faced by Businesses to Become a Customer-Centric Organisation
The paradigm shift experienced by the organisations and businesses adopting the best customer-centric approach may experience some challenges. Some of the challenges are:
Business culture is not aligned with the customer's requirements and needs.
Insufficient knowledge in the data analytics domain to carefully collect, analyse, and comprehend the customer's data based on interest, needs, and demands.
Lack of customer support and tools to address the customer's needs and requirements.
A high focus on generating revenue and boosting sales rather than customer demands and requirements
Most of the customers face challenges in implementing the customer-centric approach. Often, they claim to be a customer-centric organisation, but they lack in providing the primary motives of the customer-centric approach that are:
The needs of the customer.
The customer's possible and preferred ways to interact with the organisation can be better services, tools, or processes, enhanced features, or products from the business.
Top 4 Customer-centric Strategies to Build a customer-centric Culture
1. Facilitate direct interaction with the customer
In today's era of digitalisation, companies must interact with the customers or consumers to get an overview of their requirements, challenges, or pain points. It will enhance the business's productivity by implementing the requirements and providing solutions to its pain points. Facilitating direct interaction with the customer will help build various customer-centric strategies and customer-centric culture for the business.

2. Link employee culture to customer outcomes
It is a known fact that you will not manage it if you cannot measure a thing. To cultivate a customer-centric approach within the organisation, the stakeholders must be aware of all the ifs and hows of the impacts. It will help the organisation to establish a link between the culture and customer outcomes.
Also, once the actions are linked to outcomes, the employees will be motivated by a customer-centricity strategy. For instance, strategies must be drafted to reduce customer wait time or long SLAs or TATs to make transitions easier. Also, they can be captured in real-time to highlight and track the success of the strategy implementation.
3. Hire employees for the Customer Orientation process
Usually, businesses overlook the importance and benefits of a streamlined customer-oriented process. A customer-centric approach in a business model is not limited to fulfilling the customer's requirement and providing solutions to the customer's query or pain points.
The customer-centric approach should be kept into account while drafting any strategies, processes, or adopting a new work culture within the organisation. It must be triggered while the customer orientation process. It will enable the organisation to align the customers, both internal or external, with the customer-centric approach. It also sends a flawless message to everyone on the customer's feedback or thought process.
The employees of any organisation are the front-facing workforce expected to shape many of the experiences with customers. Regardless of the job role, focus on hiring talent aligned with customer-centric thinking and the importance of customer experience at your business.
4. Strengthen customer relationship
Customers' relationships cannot be measured in numbers or percentages by analysing a revenue performance report. An organisation can benefit once they establish a mutually beneficial relationship with the customer. In today's era of the hustle and bustle, organisations often forget that the customers are human beings and require attention at various stages.
Chasing for better and on-point customer-satisfaction KPIs, the companies and businesses often fail to understand that to create memorable experiences. They will have to build special relationships. They must go above and beyond and focus on customer delight before drafting and implementing customer-centric strategies within their organisation.
In such cases, the businesses must take help from various automated tools or Artificial Intelligence (AI) such as cloud telephony, chatbots, or cloud telephony services to focus on customer delight. The cloud telephony services enable businesses to integrate their eCommerce business website with the customised click to call button. It will enable the consumer to start a live call with a single click to get one call resolution on their query regarding a service or product via Interactive Voice Response (IVR) or a live agent.
Wrapping Things Up
After going through the well-researched customer-centric business practices and strategies, you must have insight into how to adapt the top four proven customer-centric approaches and strategies. So, what are you waiting for? First, take note of the customer-centric strategies mentioned in the article and start adopting and following the customer-centric practices.
Also Read:
1) How Can One Handle a Big Loss in a Business?
2) How does Employee Engagement Help Boost Business Performance?
3) How to Start a Furniture Export Business?
4) 6 Tips to get a loan for business while having bad credit
Stay updated with new business ideas & business tips with OkCredit blogs in English, Hindi, Malayalam, Marathi & more!
Download OkCredit now & get rid of your bookkeeping hassles.
OkCredit is 100% Made in India.
FAQs
Q. What is customer-centric marketing?
Ans. Customer-centric marketing is a marketing strategy centred around facilitating the best services and products to the customers, catering for their needs and requirements, and providing solutions to their problems effortlessly.
Q. Why is the customer-centric approach important for a business?
Ans. To expand the business and touch base to a wider audience with better opportunities, it is crucial to building customer-centric strategies, such as branding, marketing, or business. According to the leading organisation's recent study and surveys, the business success rate depends upon customer retention. In simpler words, if the customer engagement and customer retention rate are high, then the business will flourish and grow within a couple of months. So, the customer-centric approach is important for any business, irrespective of domain and industry.
Q. How to measure customer-centric approaches?
Ans. If your organisation follows a customer-centric approach in the various strategy building processes, it is equally important to measure them. To measure the customer-centric approach performance, you can analyse them on different KPIs, such as Churn Rate, Net Promoter Score (NPS), and Customer Lifetime Value (CLV).
---