Metropolitan cities are always considered favourable for all types of businesses as these cities offer plenty of investors along with a good customer base and infrastructure. Kolkata, the city of joy, is one of these metropolitan cities that offers similar opportunities and scope for businesses to grow. But before starting any business-small scale or large scale, one must ensure it is completely legal and doesn't defy any law. So how to start a business in Kolkata? In this blog, we will discuss these legal steps in detail.
How to Start a Business in Kolkata?
To start any business, a person must first incorporate an entity. There are various options to choose from. As an entrepreneur, you must have a clear idea about your business and what will best suit your business. Here are the different types of business entities-
A company is a legal entity established to carry out industrial and commercial business. Company is of three types- Public company,  Private company, and personal company.  While private and public companies require many members, a personal company requires only one as its owner.  Private companies are the ones where there must be at least 2 members to start the company, and this number can extend up to 200.  Public companies are the ones that require at least 7 members to start.
As the name suggests, a partnership firm requires two or more individuals to come together and start some business activities. And these individuals are called partners.
It means that the business is owned by a single person. These proprietorships are usually suitable for unorganised and small businesses.
LLP( Limited Liability Partnership)
LLPs combine a company and partnership to form an organisation. Here one partner is not responsible for any actions taken by another partner. All the partners have a limited liability that is present to protect different individuals within the partnership.
Once you decide the type of business entity, you should complete a few registrations. These are as follows-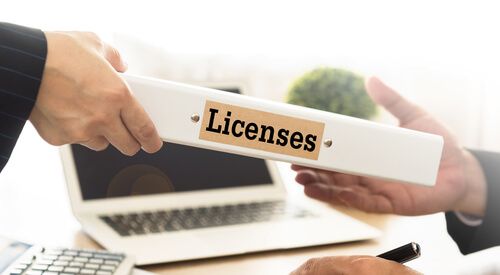 1. Trade License
The first step to conduct a business legally is to get a Trade license for your business. Trade License is a type of permit issued by the government, and it allows the individual and companies to operate their business effortlessly.
To obtain a trade license, one must follow the given step
An application in prescribed form is to be submitted U/S 199.
Places of business: Rent bill/ Tax bill/ Lease-deed should be produced depending on the ownership of the place.
In the case of Companies/Private Limited Companies, the following documents to be produced along with the application:
(i) Memorandum/Articles of Association
(ii) Declaration in Form No. 32
(iii) Form No. 18
(iv) Proof of occupancy
In the case of the Partnership Firm, the Partnership deed to be produced.
You can check out more about it on the official website of Kolkata Municipal Corporation.
2. Professional Tax
Every person, company, firm, or any corporate body engaged in any profession in West Bengal can pay Professional Tax. It must be paid by those who have a steady income source. In West Bengal, the people who are enrolled to pay the PT must do it on or before 31st July every year. Also, the tax cannot exceed 2500 INR, as stated by Article 276 of the Constitution of India.
The enrollment procedure for Professional Tax is as follows-
Go to the official page of the West Bengal Professional Tax website
Click on the "Enrollment" link under the e-services section
Click on the "New" option in case of new enrollment.
Then select the financial year for which the tax is to be paid.
Select the location of your office from the drop-down menu.
Fill in the personal information asked and click on "continue".
If an employer hires employees, the PT must be deducted from the employee's monthly wages or income. Therefore an employer must obtain a Registration Certificate for this purpose.  The professional tax slab in Kolkata is as follows

3. Service Tax
If an individual or company offers any sort of services and the value of the services offered exceeds INR 9 lakhs per year, he/she has to register for Service tax. However, if the amount doesn't exceed 9lakh INR, it is discretionary of the person to pay the Service Tax. The registration for Service Tax can be done on the official website for service tax for the Kolkata region.
The registration certificate for single premises is issued within 2 working days from the date of online registration. If it is the case of more than one premises, the registration certificate is granted by the Superintendent of Central excise within 7 days of application. If the registration is not granted within the period, then it is deemed to be registered.
4. Employee State Insurance Act
If a business or firm employs ten or more people, including regular contractual or part-time, ESI registration is mandatory. ESI contributions must be made for all employees with a salary of less than 20,000 INR per month. Here contributions of employer and employee are 4.75% and 1.75%, respectively.
The documents needed for registration are as follows:
Copy of Bank Statement
PAN Card and Address proof of the factory
Memorandum and Articles of Association or Partnership Deed or Trust Deed, depending upon the constitution of the ownership of the establishment.
Registration Certificate or License issued under Shops and Establishment Act or Factories Act, if available.
Companies under the ESIC umbrella must file their returns annually. Return of contribution, enclosing copies of all ESI contributions paid, must be submitted once every six months.
5. Provident Fund
The registration of PF ( Provident Fund)  is compulsory for organisations employing more than 20 employees. The registration application must be electronically filed with the use of a digital signature. The employees who receive a wage up to INR 15000 are eligible to the Employee's Provident Funds and Miscellaneous provisions Act,1952. If the number of employees falls from 20, and the organisation wishes to provide them the benefits, it can apply for PF with everyone's consent.
The documents required for registration are-
Copy of PAN Card.
Address Proof of the establishment
Bank account proof
Certificate of Incorporation in case of a company or a Limited liability partnership, partnership deed, or registration certificate issued by the registrar of firms must be submitted as proof.
The legal procedures are the same for small businesses in Kolkata as well. While all the legal steps may not be necessary, make sure that you have a trade license at least. As said before, Kolkata Municipal Corporation (KMC) is the central authority that deals with trade licenses and renewals. Small businesses like cloth stores, home-based bakeries, snack corners, fast food shops, etc., come under the small business category. Hence, a trade license is mandatory for them.
Conclusion
Therefore, to have a smooth sail of your business, it is necessary to follow these legal steps. Be it an online or offline business, these are the important legal steps to start a business in Kolkata.
Also read:
1) Where to Get a Small Business License?
2) Legal Rights of Every Business Owner
3) What Are The Legal Requirements For Your Business Registration?
4) Ease of Doing Business in India -The Challenges & Opportunities
5) OkCredit: All you need to know about OkCredit & how it works.
Stay updated with new business ideas & business tips with OkCredit blogs in English, Hindi, Malayalam, Marathi & more!
Download OkCredit now & get rid of your bookkeeping hassles.
OkCredit is 100% Made in India.
FAQs
Q. How to start an online business in Kolkata?
Ans. For starting an online business, one must follow the same legal steps as starting an offline business and must have a website to showcase the services being offered by the business.
Q. What kind of business is easier to start in Kolkata?
Ans. Usually, a person must start with a small business and try to grow the business. Small scale businesses are easier to start in Kolkata, especially food and drinks corners.
Q. Is choosing a business type necessary before starting a business?
Ans. Yes, choosing a business type is necessary before setting up a business as this will help a person while following the legal steps for the business.
Q. What are the problems one may encounter while starting a business in Kolkata?
Ans. Some problems faced while starting a business in Kolkata are poor connectivity, poor climate, laid-back attitude, etc.
---