Everybody in our society has the right to see dreams of attaining a certain level of comfort. However, some of them are unable to fulfil their dreams due to money constraints. So, don't they have the privilege to live their dreams and secure their life? In such a scenario, personal loans are the perfect solution for those who wish to live life in their desired way. Personal loans are of two distinct types, such as secured loans and unsecured loans.
So, what is a secured loan?
A secured loan is a type of personal loan that a borrower avails against an asset such as property or equity. Usually, in such cases, the pledger receives an amount depending upon the value of the property. Once the amount doles out to the borrower, the lender has every right to liquidate the pledged asset in case he becomes a defaulter. So secured loans are risk-free, relatively easier to avail and incur a comparatively lower interest rate.
A collateral is a kind of asset which a borrower deposits as a security against a loan. It can be your house, car, gold, and even loan against an insurance policy, mutual funds, and FDs.
Unlike secured loans, unsecured loans don't demand collaterals and typical examples of unsecured loans include credit cards, personal lines of credit, and even student loans.
Considering the fascinating features, it is always good to understand the fundamentals of secured loans beforehand. It helps you enhance your financial literacy as well as in securing your financial health. Here we will provide a comprehensive guide on the secured loans, which will help you access its features, key deliverables, and benefits.
Secured Loans: What Are They?
Secured loans are connected to some kind of collateral or assets. For example, the lenders attain the legal documents or even the item itself in case of gold or vehicle until the repayment. It is beneficial in borrowing a large amount of money as you pledge your asset as security of repayment. In such types of loans, the creditor has all the right to sell your collateral and pay off the loan borrowed by you.
Types of Secured Loans
Secured loans come in different types, such as
1. Gold Loan
Looking for a secured loan, use your idle gold jewellery as collateral and get the required capital for fulfilling your requirements. Most of the banks and financial institutions offer loans up to 75% of the current market value of your gold. It is also one of the most popular ways of getting a secured loan within a limited timeframe. However, the quality of your gold should carry a purity of a minimum of 18 Carats.
2. Loan Against Securities
Loan against Securities is another preventative way of getting secured loans in which you can pledge your mutual fund, investment bonds, and equity shares. The leading financial institutions offer an LTV ratio of a maximum of 50 % against the mutual funds, and you can also get a loan against your fixed deposit, where the banks offer a loan-to-value ratio of 90%. But the interest rate varies according to the type of securities. Hence you need to understand the principles beforehand.
3. Loan Against Vehicle
Receiving a loan against your vehicle is also another effective way if you don't have any other assets to provide as collateral. In such a type of secured loan, the disbursed amount is completely dependent on your vehicle model, condition, and year of buying.
4. Loan Against Property
When your loan requirement is on the higher side, and you do not have any issues with a long repayment period, then a loan against property is undoubtedly for you. In this type of secured loan, you can get more than 60% of LTV along with an interest rate below 10%. Remember, the amount of loan and tenure play a key role in deciding your interest rate, so do a calculation, go through your financial health, think twice before pledging your property for availing of a secured loan.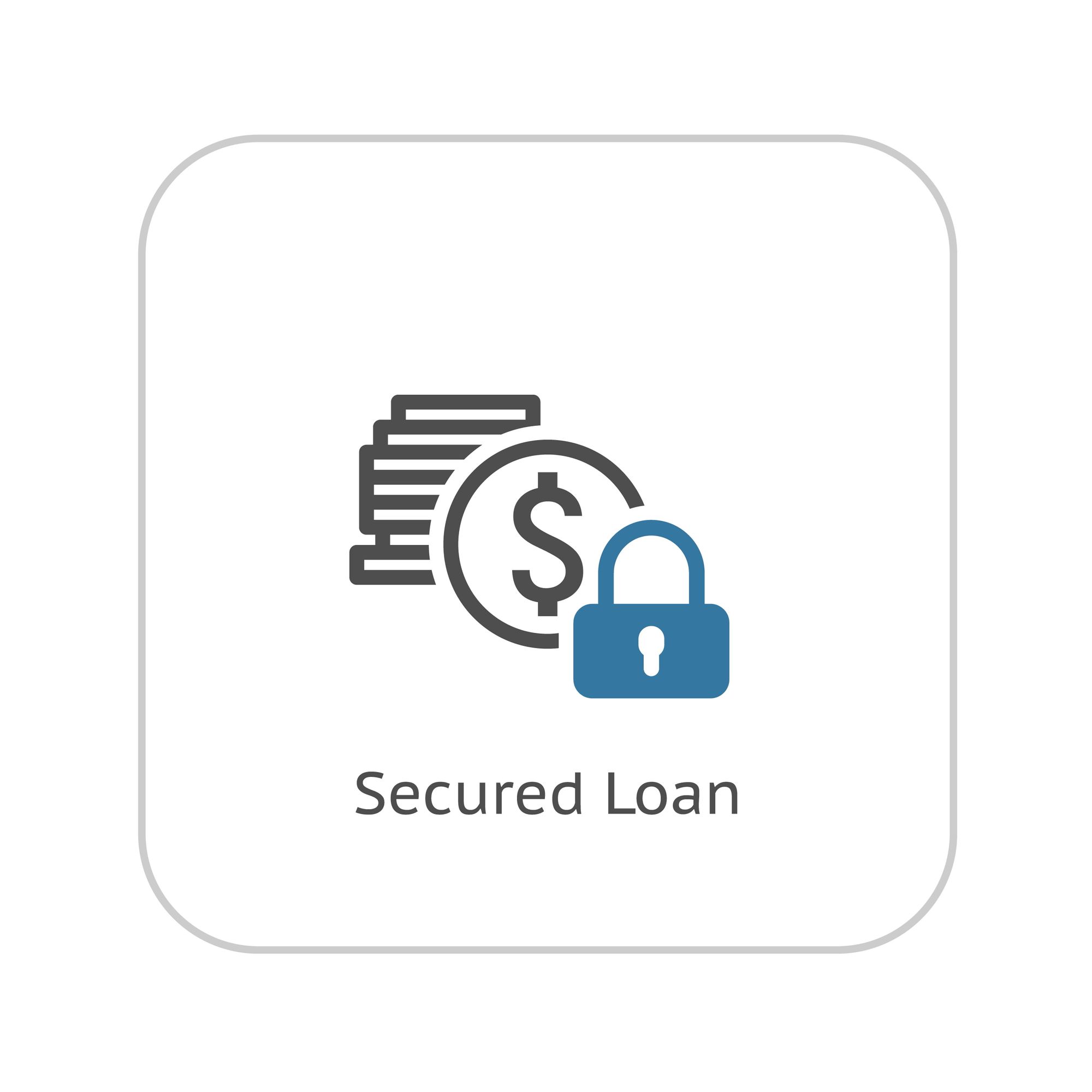 Types of Collaterals used for availing a secured loan
Secured loans are quite suitable for obtaining money with little effort and time. you can provide anything that is legally associated with you, such as
Real estate & Properties
Vehicles
Heavy machinery
Different types of investments
Insurance policies
Valuables like Gold
Key Benefits of Secured Loans
1. Minimum Interest Rate
If you are concerned about the hefty interest rate while availing of a loan, you must go for secured loans. It incurs a comparatively lower rate than unsecured loans as you are providing collateral. On the other hand, if, as a borrower, you fail to repay the loan amount, then the lender recovers the same by selling your pledged assets. So there is hardly any financial risk with secured loans.
2. A larger amount of loan
In this type of loan, you receive a loan against your gold, property, or even property, so it is relatively easy to avail of a larger loan amount. Offering you a hefty amount becomes quite easy for the banks to fulfil their liability by such collaterals. So unlike unsecured loans with this, you can obtain an adequate amount depending upon your assets.
3. Flexibility
Due to collateral, the loan processing becomes quite easy as both the bank and the borrower are well-informed. So, they don't waste much time on the verification and authentication of the borrowers. On the other hand, the banks and financial institutions also charge penalties in case of foreclosure and missing the EMI date.
Steps to Follow While Applying for a Secured Loan
1. Check Your Credit Report
Credit score plays an important role in determining your financial health, loan & credit card approval. So, when you decide to apply for a secured loan, you must check your credit report. However, banks follow a flexible approach for tendering a secured loan, but that doesn't mean to hamper your credit report anyway.
2. Access Your Assets Value
Your asset's value that you want to use as a security against the secured loan determines the loan amount. Hence it is always better to estimate the value of the same before hitting the lenders.
3. Visit Different lenders and Choose the Most Competitive One
Going around different banks and financial institutions provides you with a good insight into the different interest rates, processing fees, and eligibility. Once you have a necessary idea of the evaluation process and key elements to access your worthiness, you must draw the curtains with the leading lender. It will help you avail all the latest features along with an exceptional interest rate.
Over to You
If you are looking for a secured loan, the foremost step is to do extensive research on your fundamental requirements and an in-depth comparison of the lenders. The next thing is to find out an effective plan for paying off the loan on time and get back your collateral. Remember, secured loans are most beneficial and effective if you pay off monthly EMI on time and follow the lenders effectively. Availing a secured loan is quite a complicated affair. It requires immense planning and preparation. So always prefer a lender who can guide you and understand your core difficulties but only with a backup plan.
Also read:
1) What is a business loan? How to apply for a business loan?
2) Home Loan: Steps to apply, Best Interest Rates on Home Loans & more
3) What is Business Loan? A Complete Guide.
4) How To Get Small Business Loan From Government?
FAQs
Q. What are the primary reasons to apply for secured loans?
Ans. People seeking to apply for a loan even missed the opportunity and rejection by the banks and financial bodies due to bad credit scores in unsecured loans. On the contrary, secured loans are less affected by credit history and mostly dependent on collateral. On the other hand, secured loans are way more flexible and take a minimum disbursal period and good for availing the higher loan amount. So, it is good to choose secured loans if you have adequate assets to use.
Q. What are the key elements that you must look for while applying for a secured loan?
Ans. Applying for a secured loan can be an effortless process if you consider the loan tenure, loan amount, interest rate, processing time for the loan disbursement, and your eligibility.
Q. Is it ok to repay the secured loan early?
Ans. You can repay the loan amount much before your fixed tenure according to your suitability. However, early payment and loan foreclosure policy differ from bank to bank. Most of them incur a foreclosure charge, so you must consult them beforehand to avoid last-minute intricacies.
---