OkStaff - Manage Salary & Attendance - By OkCredit!
What is OkStaff and will it help your business?
As lockdown eases, offices have begun functioning full time, and businesses have started venturing to newer levels. "With new work comes newer responsibilities", hence, making it necessary for all owners and employers to keep track of their staff and maintenance.
With so many random software for various purposes rounding up in the market, it becomes difficult for small business owners or employers to keep track of various expenses made regarding staff. Keeping track of daily, weekly, hourly, monthly or even annual salary/wages can be hectic if done manually or using a pen & book.
Hence, OkStaff came into reality. A smooth mobile-based solution to manage all your staff and salary-related functions in the blink of an eye. Let us understand briefly about this product as we go further.
What Is OkStaff?
OkStaff is a free of charge staff management app that lets you manage your employees' payments, attendance & more!
This application is brought to you by your very own OkCredit as the next step towards Digital India while proudly making Indians 'Atmanirbhar' & boost the "Make in India" campaign.
It is a truly made in India application that reduces your efforts towards employee supervision.
At the ease of your fingertips, OkStaff excludes all your worries related to team management & helps build a more powerful relationship between you & your workers.
OkStaff is a complete solution for your enterprise as it facilitates modern management of your staff's duties completed, leaves, salary & more.
Features Of OkStaff
Easily manageable salaries/wages/earning and compensations of your staff or employee on-
Monthly Basis
Weekly Basis
Daily Basis
Hourly Basis
Manage all attendance related matters depending on full-day, half-day, overtime, or absent all in one app.
Automatically calculate pending or upcoming salaries and keep getting updated with every date.
Accuracy is the key to OkStaff when it comes to proper salary computations or attendance supervision.
You can download all your salary slips, attendance records, and other reports generated in the app via PDF format.
OkStaff is a 100% secure app that stores all your data and automatically backs it up in case you misplace or damage your device.
Our full-fledged customer support helpline is always available to guide you through the usage and management process.
It is available free of cost for every individual.

Benefits Of OkStaff for your Business
Maintains transparency between the bosses and employers.
Eradicates the need for multiple ledgers.
Builds assurance and relationship with the company along with negating trust issues.
Gives early reminders for any due payment, pending transactions, or upcoming salaries.
Best way to earn your staff's respect and gain long-term loyalty.
Time-Saving via auto calculation of every transaction.
Negates the hassle of accounting with Pen and Paper or old school Tally software.
All digital payments can be recorded offline to keep track.
How to set up OkStaff?
If you want to try out OkStaff in general, login won't be necessary. Check out the following steps to start using this app-
Step 1- 📥Download app from Google Play Store
Step 2- ✅Verify your mobile number with an OTP
Step 3-🔤Add your 'Business name'
Step 4-☑️And that's it! You are ready to use the amazing OkStaff app!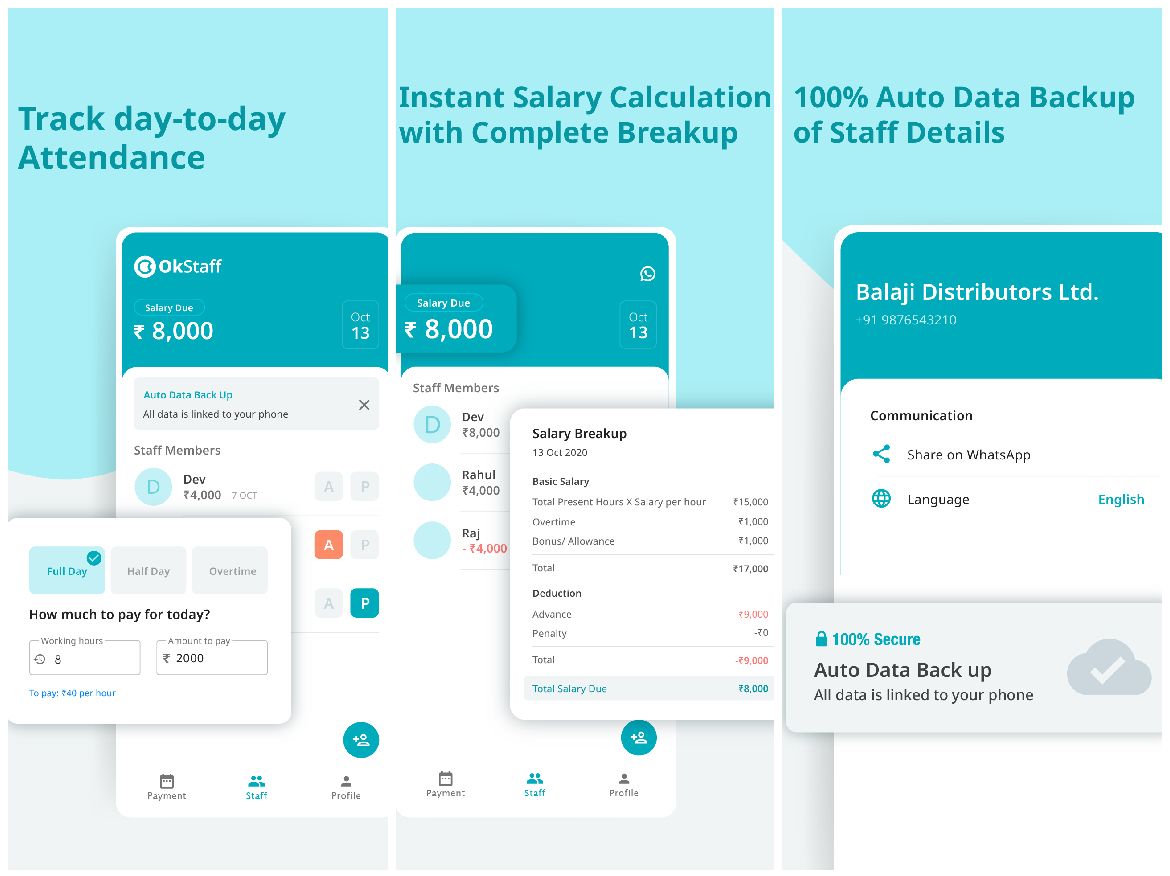 Which type of businesses/companies can use OkStaff?
OkStaff is perfect for all kinds of small and big business plus organisations. It is loaded with the latest features and suited a series of businesses like-
📱 Mobile & Mobile Recharge Shops
🏥 Medical Stores & Pharmacy Stores
🛍 Kirana Stores/Grocery Stores & Supermarkets
🍛 Restaurants & Hotels
🧥 Apparel & Garment Stores
🏬 Wholesalers & Distributors
🍇 Vegetable Vendors, Fruit Shops & Dairy Stores
💸 Banks & Financial Organisations
🏫 Schools, Colleges & Coaching Institutes
With OkStaff - leave all your worries & start getting wooed by this seamless Staff Management app!
OkStaff will help you to-
Track your Staff's Daily Attendance
Calculate Salary with Complete Breakup
Record Advance, Bonus, etc.
Send Instant WhatsApp Alerts
Download or Share Salary Report on WhatsApp anytime and anywhere
OkStaff ke saath bane Digital India ka digital hissa!
Download OkStaff for free today.
For any assistance please don't hesitate to ping us on our WhatsApp support number +919538028406 & we'll be happy to assist you.
For more information or queries, you can email anytime to help-okstaff@okcredit.in.
Stay updated with new business ideas & business tips with OkCredit blogs in English, Hindi, Malayalam, Marathi & more!
Download OkCredit now & get rid of your bookkeeping hassles.
OkCredit is 100% Made in India.
---