Table of Contents:
1. 3D Printing Business In India
3. Requirements For 3D Printing Business Ideas
4. Tips To Start Your 3D Printing Business In India
5. FAQs On 3D Printing Business Plan
1. 3D Printing Business In India
Do you want to start a small business with a lot of growth potential? One of the coolest and latest technologies that have gained tremendous popularity in recent times is 3D printing. The new 3D printers can print over hundreds of different materials including metal, nylon, and plastic. The upcoming industrial 3D printing wave has covered sectors as varied as arts, manufacturing, medicine, and technology.
In 3D or 3-dimensional printing, the printing device is connected to a computer, and an object is made out of many thin layers. Many manufacturing industries are using 3D printing in different ways. It can be creating scale models of buildings or customised tools for the shop floor.
2. 3D Printing Business Plan
With recent advances in technology, people can print everything from hearing aids to design products like furniture. 3D printing can help you on many levels. Here we tell you some small business ideas that you can explore with 3D printing.
1. 3D Selfie Studio
Users use an android phone app to take a 3D selfie. Then they send the picture to the 3D studio company.
2. Customised Frames For Glasses
Who doesn't love a stylish pair of eyeglasses or sunglasses? But the difference is you create 3D printed glasses that can be customised according to the customer's face. This makes them very comfortable to wear.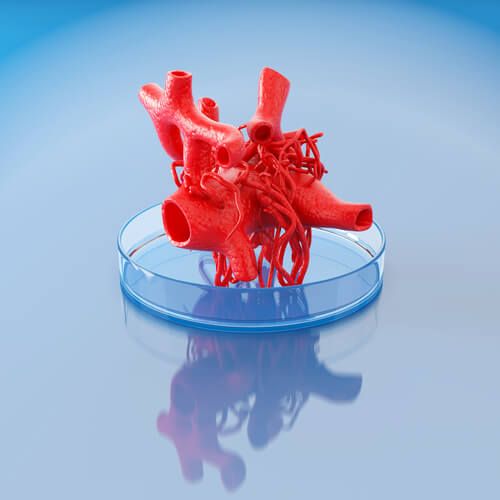 3. Bioprinting
Bioprinting is the process of using 3D printing technology to print animal and human cells and produce three-dimensional functional tissues. One key application of bioprinting is to speed up the drug development process for pharmaceutical companies. Another goal is to print fully functional organs like the heart, kidney, or liver for transplant. Starting a 3D printing business would be an interesting and profitable venture for any entrepreneur.
3. Requirements For 3D Printing Business Ideas
1. A good 3D printer. The type you choose will depend on the niche you select. It should print efficiently. If you are going to print in large numbers, you will need multiple machines.
2. Thermo-Plastic filament reels. For FDM 3D printing you need to have filaments in every material and colour range that you want to offer.
3. Software to create the digital models from which the physical objects will be made. These include 3D modeling software and a 3D slicer like Cura.
3D printing is environmentally efficient and is a lower-cost option than traditional manufacturing. It is expected that by 2025, 3D printing will be a $ 50 billion business globally. In this article, we will show you how to launch a 3D printing business.
4. Tips To Start Your 3D Printing Business In India
1. Write a business plan
This means doing market research, selecting a certain 3D printing niche, understanding how much funding you need to get started, planning for how you will grow, where you will find customers, etc. Though you may feel that you have all the ideas in your mind, it is better to write them down.
Jot down your predictions regarding sales and how much revenue it is going to generate. Figure out the expenses-how much you are going to spend on rent, buying equipment, and hiring people. If you are planning to borrow money from a bank or a financial institution, a business plan is important.
2. Choose your businesses' legal structure
Will you be the sole proprietor or go for partnership? There are financial and legal implications for each. Register your business. This includes registering your business name and getting a GST number.
3. Learn about the technology
Learn about 3D printing technology and the industry. There are many online courses available from websites like Lynda. But the best way to learn is to just buy a printer and try it out.
4. Do Market Research and Feasibility Studies.
Before starting this business do adequate market research. Check whether there is a demand for what you want to create. Systematically gather and analyse data about potential customers and the market.

5. Find a niche and stick to it
There are many different niches for the most profitable business idea of 3D printing. To find your ideal niche try Googling about the market or read some blog posts. Some examples include setting up a local 3D printing service, printing manufacturing components, testing prototypes, or making toys and gifts. Approximately 65 percent of demand comes from engineers developing consumer, electrical, or industrial products.
Try to create a brand of what you will sell. Initially, you can also join an online manufacturing marketplace like 3D hubs, and offer your services. If you want to open an eCommerce store, you can design products like jewellery, accessories, furnishings, etc.
6. Cost
The cost of setting up depends on the type of business and your niche. The type of 3D printer you choose, software, utilities, rent, and marketing-all of these have an impact on cost. You can go to the website of any 3D printer company like Konica Minolta, and find out the best price.
Do you have the cash in hand to pay for the start-up investments?  One of the ways you can keep costs low is by securing the right funding. You can put the printers in the basement of your home, or the garage. That way, you will save on rent.
Factor in costs for any replaceable parts like nozzles and resin vats.
7. Source your raw materials properly
The cheaper you source your raw materials, the more money you will make. Plastic is the most commonly used raw material for 3D printing. One eco-friendly source of plastic is Polyastic acid, which is processed from natural products like corn starch and sugarcane.
8. Business Model
There are 2 approaches to 3D printing: Established Business or Subcontracting service. As an Established Business, you have your brand. You accept orders from a customer and ship him the finished product. You can also provide prototyping services for clients.
In a Subcontracting service, you will serve businesses or individuals who cannot afford a 3D printer. Here, a prospect may contact you with a file and ask you to print it. You can do a school project for a student or a design sample for an artist.
9. Track your numbers
Starting a 3D printing business is capital intensive. So, you have to keep a track of all expenses like raw materials, power, packaging, etc. Find out the cost for each product, and try to keep it affordable.
10. Maintenance
Proper maintenance is necessary to keep your 3D printer up and running. You have to clean the parts of the printing machine regularly. Parts like the filament or the hot end might need to be replaced, so prepare a checklist.
11. Ensure visibility
Small business ideas like the  3D printing business model depend heavily on effective marketing. It does not have to be very costly-you can start a community on Facebook or Reddit, and post regularly. You can also spend a small amount of money on Google and Facebook advertising so that your product or service is visible to a large audience.
Try to create some interesting content for uploading on social media-your factory in action, or some of the cool products that you have created.
12. Create a website
Building a website is important while launching a 3D printing small business. Select a domain name that is easy to remember. You can choose a Web Hosting Plan from sites like Shopify or Woocommerce. Select a mode for accepting payments.
According to Wohler's Report, 3D printing is expected to grow at over 23% over the next five years. It is a promising new field, but you have to invest time and money. We hope that our advice will help you to start a business in a 3D printing service of your own.
Also Read:
1) How to refrain from quitting your business during an economic crisis?
2) How to start tours & travels business?
3) How to Tackle Attrition Rate During Economic Crisis?
4) How to Start a Wine Business? Investment, Tips & More
Stay updated with new business ideas & business tips with OkCredit blogs in English, Hindi, Malayalam, Marathi & more!
Download OkCredit now & get rid of your bookkeeping hassles.
OkCredit is 100% Made in India.
5. FAQs On 3D Printing Business Plan
Q. How do I calculate the cost of my 3D printing services?
Ans. The easiest way to calculate the cost will be to charge an hourly rate plus the raw material cost. Then add for your own time.
Q. Which 3D printers are commonly used to make prototypes?
Ans. SLS 3D printers are most often used to make prototypes. Others that can be used are FDM, MJF, etc.
Q. For accessories and jewellery which method of 3D printing can I use?
Ans. You can use resins in castable molds.
Q. Is electricity a major cost in 3D printing?
Ans. No, 3D printers are very power-efficient and don't use much electricity.
Q. How can I sell my products online?
Ans. You can plan to sell your products on online platforms like Amazon, eBay, or Etsy.
---