All you need to know about Digital Marketing
Welcome to the world of digital! Everything you need to know is just one search away. In today's world, marketing one's business online has unlimited advantages.
Digital marketing is a great way to promote your business. Even if you are launching a new venture, digital marketing serves to reach more audiences and acts as a springboard to launch your business.
How has marketing evolved over the years?
The last three decades have seen massive changes in the marketing sector. With the advent of the Internet, more and more users have transformed strategies to market their business. Google, Yahoo, Bing have become goldmines as marketing tools.
Digital presence has provided a lot of transparency. According to Seth Godin, when consumers get used to transparency, they tend to be more interested in the quality of what you are selling and willing to pay more. Moreover, once people start moving in that given direction, the cost of being an unethical provider can get high.
From promoting business through flyers and local advertisements, businesses have come a long way. Online presence has helped to generate more revenues as well. According to weforum.org, online marketplaces like Uber and Airbnb showed an exponential rise in revenues while keeping the expenditure low.
What is Digital Marketing?
Digital marketing is an effective marketing strategy to promote your business or brand online. It involves marketing through emails, social media, websites, and search engines.
What are the opportunities that come with Digital Marketing?
There are several advantages that one can take advantage of once the business is online. It is easier to measure growth using analytics tools.  Interaction with more customers quickly makes digital marketing superior to traditional marketing.
Dedicated online customer service will allow one to know more about potential buyers. According to a Microsoft report, more than 90% of customers expect companies to have an online portal service for customers. Online platforms provide a lot of benefits. These are:
1. Finding new customers: Everyone is online these days. Finding new places on the Internet is just a click away. Promoting your business on a digital platform thus increases the chances of finding customers.
2. Selling products: Selling products and services becomes a lot easier once you have established an online presence. For example, if one is selling a product, it can be sold straight from one's website via an e-commerce option. Services can also be marketed online. For example, if someone has a plumbing business, he/she can sell that service by providing a booking service through their website.
3. Delivering targeted advertising to potential customers: Targeted advertising is a way to show your business ads to potential buyers. This depends on a person's demographics, purchase history, or behaviour on different social media platforms.
4. Learning more about customer's needs: Digital platforms provide a means for you to interact with more customers. This can be done through social media or by providing a simple feedback form to your customers. This way, they can tell you what their needs are.
Many small business owners are building their online presence to grow their market. According to the Economic Times, the digital marketing sector's worth will surpass the 225 billion INR mark by the end of 2020. Some surveys also show that 70% of consumers prefer to learn about a product or service through digital ads or content.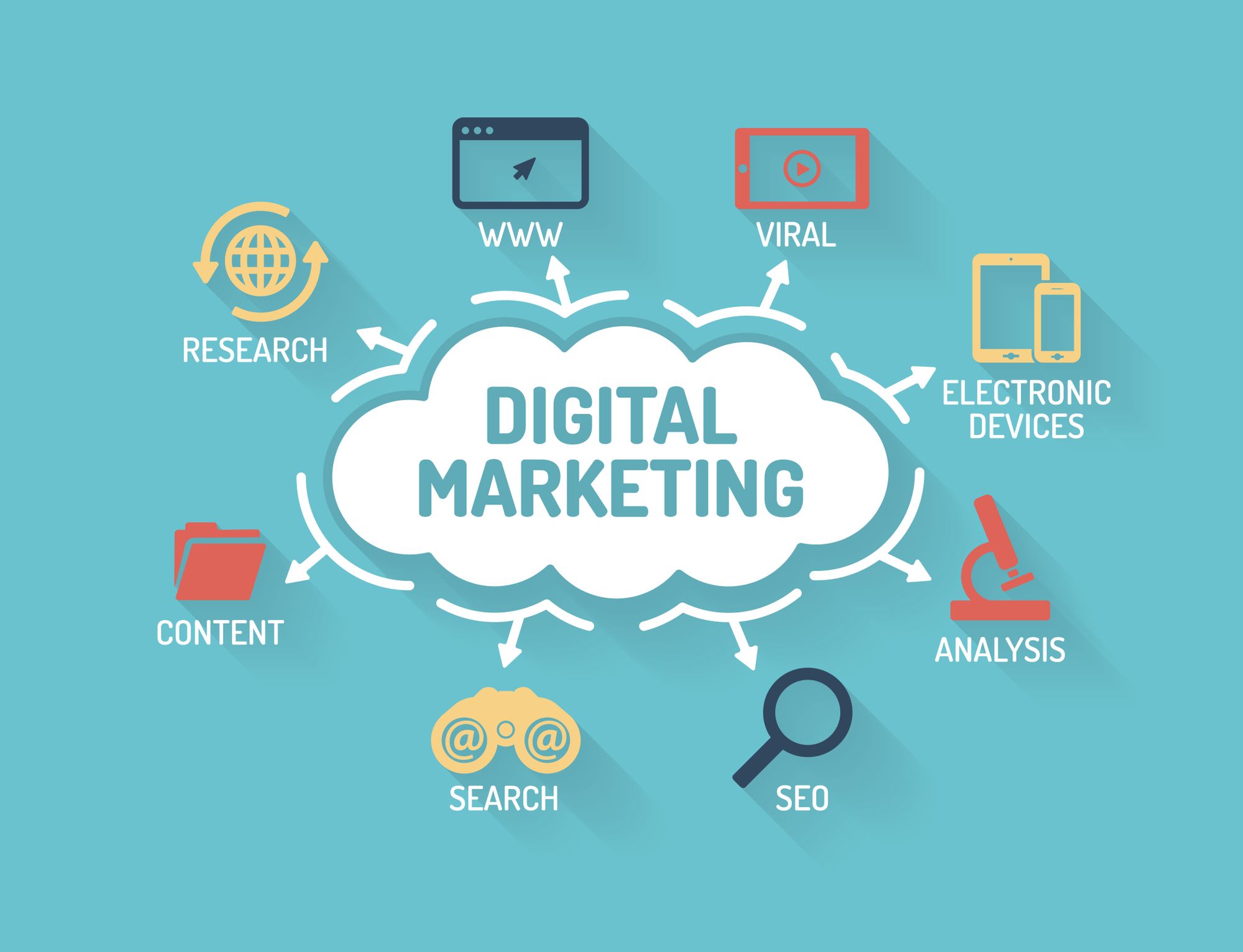 Importance of building a digital presence:
Every business needs customers. Digital marketing forges a way to reach out to more potential buyers.
First, one needs to know why it is necessary to make a digital marketing strategy. Without a digital presence, a business grows on referrals and word of mouth. Offline presence won't reach a lot of customers unless it has a vast market already.
One of the significant advantages of digital marketing is reaping the benefits of search. Choosing a relevant business name is essential: Such that it can show up when people search for businesses similar to yours.
Digital presence helps in providing insight into prospective customers. One can know what they want and how to provide it to them. Targeted advertising is a great way to show customers what you have to offer.
How to get started when it comes to establishing a business online?
Many technical jargons come into play when establishing a business online. But, establishing an online presence is not that difficult. Following are some steps one can follow:
1. Listing in business directories: Online business directories are portfolios that list information about your business, such as name, service offered, location, and contact details. Businesses that are listed in such directories have better search engine optimisation. They are also seen as credible and authoritative on the Internet. Google My Business is a great platform to list your business online.
2. Building a website: Websites are a great way to promote your brand. Customers searching online for businesses like yours can quickly learn more about your brand. One can make a well-designed product page with FAQs dedicated to the products and services offered to attract more buyers.
3. Social media pages: There are numerous social media platforms where one can market their business. Facebook, Instagram, Twitter are popular platforms where you can market your business. At the same time, you can interact with your customers. One can post photos and videos of creations, post reviews by happy customers. One should also add contact info and location, opening hours, etc. so that your service seems approachable.
Also read:
All you need to know about Email Marketing
How is Affiliate Marketing beneficial for any business?
How Smaller Cities & Towns are Emerging as New Capitals for Brands?
Digital growth of brands over the years
What is the best form of advertising today in the modern world?
FAQs
Q. Will my business profit from digital marketing?
Ans: Online presence builds a more extensive customer base. Your business should have a unique selling point. Figure out what makes your business stand apart from the rest. Reports say this increases the likelihood of sales by about 20%.
Q. What is SEO in digital marketing?
Ans: SEO or search engine optimisation is a process that pushes your website upward on the search engines. This relies on keywords. Digital marketers design content accordingly such that the website ranks higher on the search engine results.
Q. Why is social media presence significant?
Ans: When people search for something, it appears later as ads on social media platforms (like Facebook, Instagram, Twitter, YouTube, etc.) These ads prompt potential customers to visit your page and know more about your brand or the service that you offer.
Besides, it also acts as a medium where you can interact with customers. Ask for reviews from satisfied customers and post them on social media. Post more engaging content. These activities will increase trust between the people and your brand.
Q. How do analytics work?
Ans: Analytic tools measure how much traffic is being directed to your website. It also measures what people are doing on your website. Marketing costs are also predicted using these tools. All such data can be kept in a tabulated form. In this way, one can modify the marketing strategy accordingly. Social media metrics, Email metrics, and Advertising metrics are some of the ways by which we can measure the growth. Analytics is a key feedback mechanism too. Monitoring the changes helps in evaluating the success of any marketing initiatives you may have launched.
Q. How much does digital marketing cost?
Ans: Many agencies offer digital marketing strategies and do the work for you. These agencies offer a sliding scale. Plan your budget, depending on the size of your business. Digital marketing services in India range anywhere between INR 20,000 to INR 1,00,000 per year for small businesses.
Q. How long does it take to see results?
Ans: There is no guaranteed period in which you can see benefits. Getting started is essential. It depends on a lot of factors. One needs clear goals, a definite mission statement, and a unique selling point.
Marketing strategies are constantly evolving Businesses and brands should adopt newer strategies to bring in more customers. It is vital to produce and promote engaging content. One of the worst mistakes businesses can make, is to be inconsistent.
Regular updates, engaging with customers online, and providing efficient service are essential to making digital marketing strategies work. Hire professionals who can help. Soon, one's business will reach greater heights.
---