Being the owner of a nightclub can feel like something straight out of a movie. The glamour or at least the perception of it, the profits, the required capital, etc., can feel like an unattainable task. Owning your nightclub is perceived as a high return investment, especially when the country is opening again. It is also easier to manage than a full-fledged restaurant or restro-bar. However, the harsh reality is that it is one of the most labor-intensive and stress-inducing business plans out there.
Starting a nightclub business can be instantly rewarding, as well as highly taxing on your personal life at the same time. Therefore, even before thinking of starting a business in this niche, one must consider all the ramifications that will be wrought upon them if they go on with their plan. On the other hand, it can be highly rewarding emotionally and financially if it is a passion project.
We'll go over opening a nightclub in India in this article. You'll learn about the necessary investments, the type of location needed, the workforce needed, and the licenses needed to open and operate a nightclub. Before beginning this, you must determine the type of nightclub you will open.
However, before progressing to that, you must know about the type of club you're planning to open. Here are some examples:
Club
Specialty Bar
Brewpub or Beer Bar
Sports Bar
Neighbourhood Bar
Franchise bar

Location for the Nightclub
A nightclub, unlike a regular diner or even a fine-dining restaurant, which are generally spread out over a single floor, nightclubs are multi-storied. They require at least 5000 sq ft and at most 10000 sq ft. These measurements and staying in between them are important. Go below the minimum, and the space is cramped and difficult to navigate. Go beyond the maximum, and you'll have a space so huge that it becomes uneconomical to manage. The trend nowadays, and one that we agree with, is to have both an open and a closed section. These can be navigated and utilised by your customers as per their preferences.
With their high foot traffic, as well as an eager customer base, office complexes and workplaces are some of the best locations that your nightclub can have proximity to and where your investment will appreciate. Employees are more likely to congregate at the nearest bar or pub after work to catch up with coworkers and friends. Finding a 5000 SqFt – 10,000 SqFt space, on the other hand, is difficult. Also, remember that simply being present in the right market isn't enough; you must also have the perfect accessibility to attract customers and footfall. Choose a parking area with a designated parking space.
Having adequate parking will ensure customer footfall and satisfaction.
Provide Adequate Facilities
A Nightclub isn't just a place for entertainment. It is also responsible for its customers' food needs.
Not only does having the right equipment simplify the process, but it also reduces reliance on highly skilled personnel. According to industry experts, investing in proper equipment such as burners, fryers, and ovens can save you a lot of money in the long run because they provide high quality and speed returns. If you want to save money, you can buy used or previously used equipment, such as working tables and racks. The cost of the kitchen setup is influenced by the food served.
The total cost of a kitchen can range between Rs 5 and Rs 7 lakhs. Furthermore, the raw materials required for construction may cost between Rs 1.5 lakhs and Rs 2 lakhs. Furthermore, because we plan to open a bar, the storage of liquors worth Rs 10 to 12 lakhs may be prohibitively expensive. Customers are picky about the smallest details, so good vaults are as important as good kitchen equipment. The Rs 6 lakhs cover the cost of a good restaurant or bar, as well as the bar's setup.
Required Documents
The nightclub format requires the most permits and licenses of any restaurant format. A minimum of eight licenses is required for your restro-bar to open.
The following licenses are required to open a restaurant or bar:
Liquor License
Shop Establishment License
Police Eating House License
Local Municipal Authority License
FSSAI License
Fire Safety Certificate
GST Registration
It is also necessary to have a music license, an environmental clearance certificate, and a fire department license. The most important requirements for opening a nightclub are liquor licenses, FSSAI licenses, GST registration, and local municipal health licenses. The remaining funds can be applied once the nightclub is operational, and they must be in place within two to three months. The total cost of the license could be Rs 10 lakhs.
Managing Staff
A nightclub requires an average of 25-30 employees to function properly and smoothly. This list includes the Chef, Chef De Partie, Commis level chefs, aid workers, waiters, capitans, bartenders, and bouncers. Employees' wages are determined by their skills and experience.
Managing Staff and the various requirements they might have can be a daunting task, especially for someone with a new nightclub business. OkStaff is a staff management service that helps manage staff needs and various disbursements, leaving you free to focus on your business.
Customers are more likely to purchase from a well-dressed company. Because a nightclub or bar is typically a large establishment, your employees must appear even more professional. Depending on their level of employment, kitchen workers should wear t-shirts or chef coats. Waiters should dress in shirts and slacks. Proper branding of your employee uniforms should be used at the start of your operations to give your nightclub a better feel.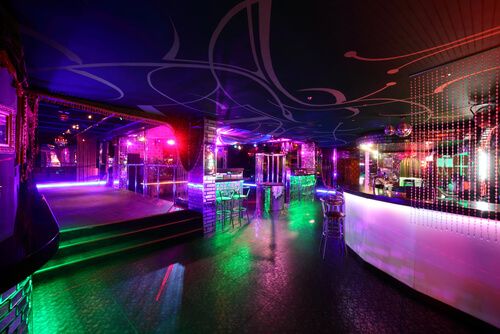 Promotion and Marketing
While attending to the nightclub's basic needs, the small details are frequently overlooked. For example, you may consider your menu to be nothing more than a piece of paper with menu items on it, but it is much more. A well-designed menu with your club log provides branding and plays an important role in increasing drinks sales.
It's also a good idea to explain each dish in a single line so that customers can order more easily. Remember to train your employees on how to upsell from the menu. Furthermore, in today's internet age, online collaborations are critical for gaining customer traction, and they will cost nothing more than a meeting with the food-tech portal's alliance team.
Managing your finances is of primary importance in any business, but you may find that your nightclub is taking most of your time. OkCredit is a financial accounting service that helps you manage the various aspects of your company's finances and leaves you free to grow your business.
Conclusion
A nightclub requires more initial capital, but it is also one of the most profitable and cost-effective restaurant formats. However, it is one of the most difficult formats to master and necessitates extreme caution and involvement on the part of the restaurant owner. Because you serve a large number of customers and operate a larger facility, your participation as an owner is critical to the success of your restaurant and bar.
Also Read:
1) How to Start Ceramic Tile-making Business?
2) How to start Fertiliser Manufacturing Business?
3) How to Open a Pathology Lab? Investment, Steps & more
4) How to Start Bouquet and Greeting Card Making Business From Home?
Stay updated with new business ideas & business tips with OkCredit blogs in English, Hindi, Malayalam, Marathi & more!
Download OkCredit now & get rid of your bookkeeping hassles.
OkCredit is 100% Made in India.
FAQs
Q. Is owning a nightclub profitable in India?
Ans. Nightclubs can be a lucrative business for aspiring owners; look at the Nightclub & Bar Top 100 List to see the record-breaking revenue brought in by the country's top nightlife venues.
Q. How much do nightclub owners make in India?
Ans. At Rs 300 per square foot, renting a 2,500-square-foot space in Mumbai, India's so-called party capital, would cost Rs 7.5 lakh per month. To be profitable, you must generate Rs 50-60 lakh in monthly revenue, which equates to Rs 2,000-2,500 in sales per square foot.
Q. How can nightclubs fail?
Ans. Closures of nightclubs are caused by a high risk of violence, bankruptcy, and insecurity. Furthermore, most clubs' entire financial models are based on turning a profit on two to three nights of business per week.
---