Everything you need to know about Social Media Marketing
Social media use has skyrocketed in the country. It is estimated that India has 25 crores of active social media users. Businesses can market through social media to reach different kinds of users from across the country. With globalisation, a business is not restricted to geographical barriers. Businesses can transact with people from every corner of the world while sitting in their homes. The internet has made it easier to do business.
Social media is a great place for businesses to connect with their users directly. Businesses do not necessarily have to spend large sums of money to do social media marketing. They can reach people organically. Businesses can increase sales significantly by using social media marketing.
Here are some benefits of social media marketing
1. A huge audience👐
There are hundreds of millions of internet users in India and around the world. Through social media marketing, you can reach a wide audience to market your products or services. You are no longer restricted by geography anymore.
2. High Return on Investment📈
Social media companies have extensive information on their users. You can promote your brand or products to only those users that are more likely to buy your product. This means that by using social media marketing, you will earn much more than your investment.
3. Growing brand awareness📊
Social media is the best place to grow brand awareness. The rule of seven is a golden marketing saying; according to which, a user has to see or hear your brand's name/message at least seven times before they decide to buy from you. Social media is a great way to accomplish this.
4. Increase traffic to your website and app⬆️
Social media marketing can help you nudge users to go to your website or install your apps. Publishing great content consistently will intrigue the users, and they will want to know more about your brand. Once you get them to your website or use your apps, you can boost your sales.
5. Organic reach⏫
Businesses can market their products and services on social media without spending a single penny. You can reach people organically using social media. Publish viral-worthy content, showcase your products, and you can get people to buy from you without spending one penny on marketing.
6. Connect with your audience🤝
Social media is a great place to connect with your audience. You can resolve any grievances a user might have with your product/service. You can help them understand what your brand values are. Connecting with your audience goes a long way in marketing.
How to Start Marketing on Social Media?
You are now aware of how beneficial social media marketing can be. To get started on marketing your business on social media, here is a quick guide:
1. Start a business page on all social media platforms✅
Your first step should be to set up your brand's page on social media platforms like Facebook, Instagram, Twitter, etc. Using this page, you will be able to connect with your target audience.
2. Set up your business page✔️
This is an important step. Social media platforms have a bio section for pages. Come up with an interesting bio for your page. Upload a professional-looking profile and cover pictures. The profile and cover pictures should be inviting and intriguing.
3. Content🖋
The next step is what to post. Videos are an excellent way of announcing yourself to the world. They are impactful. People are more likely to see a video rather than read a post. Start with a short video explaining what your brand is. Next, you can upload videos on your product. You can make a video on how to use your products or how your product is helpful for the users. Have a goal in mind with your posts. Do not post too much or too little.
4. Paid advertising💲
This is a great way to generate sales and drive traffic. Social media websites have extensive information on their users. You can use this to your advantage. You can advertise your products directly to your target audience on social media. For example, if you are a female-centric clothing brand, you can show your ads specifically to people that have searched for women's clothing recently.
5. Using stories📝
After the huge success of Snapchat, social media platforms have introduced the 'stories' feature on their platforms. Modelled after snaps, Facebook has introduced stories on Facebook and Instagram, and Twitter has introduced Fleet. Stories are a great way to connect with your audience. Stories also have a higher chance of going viral. A lot of people share stories regularly. You can post funny, inspirational, thought-provoking, or any impactful stories to increase eyeballs on your page.
Social Media Marketing Strategies
Social media may be an excellent way to promote your business, but it is not an easy endeavour. There are thousands of brands vying for people's attention on social media. You have to distinguish yourself from the crowd to be successful on social media. Here are some excellent social media marketing strategies you can use: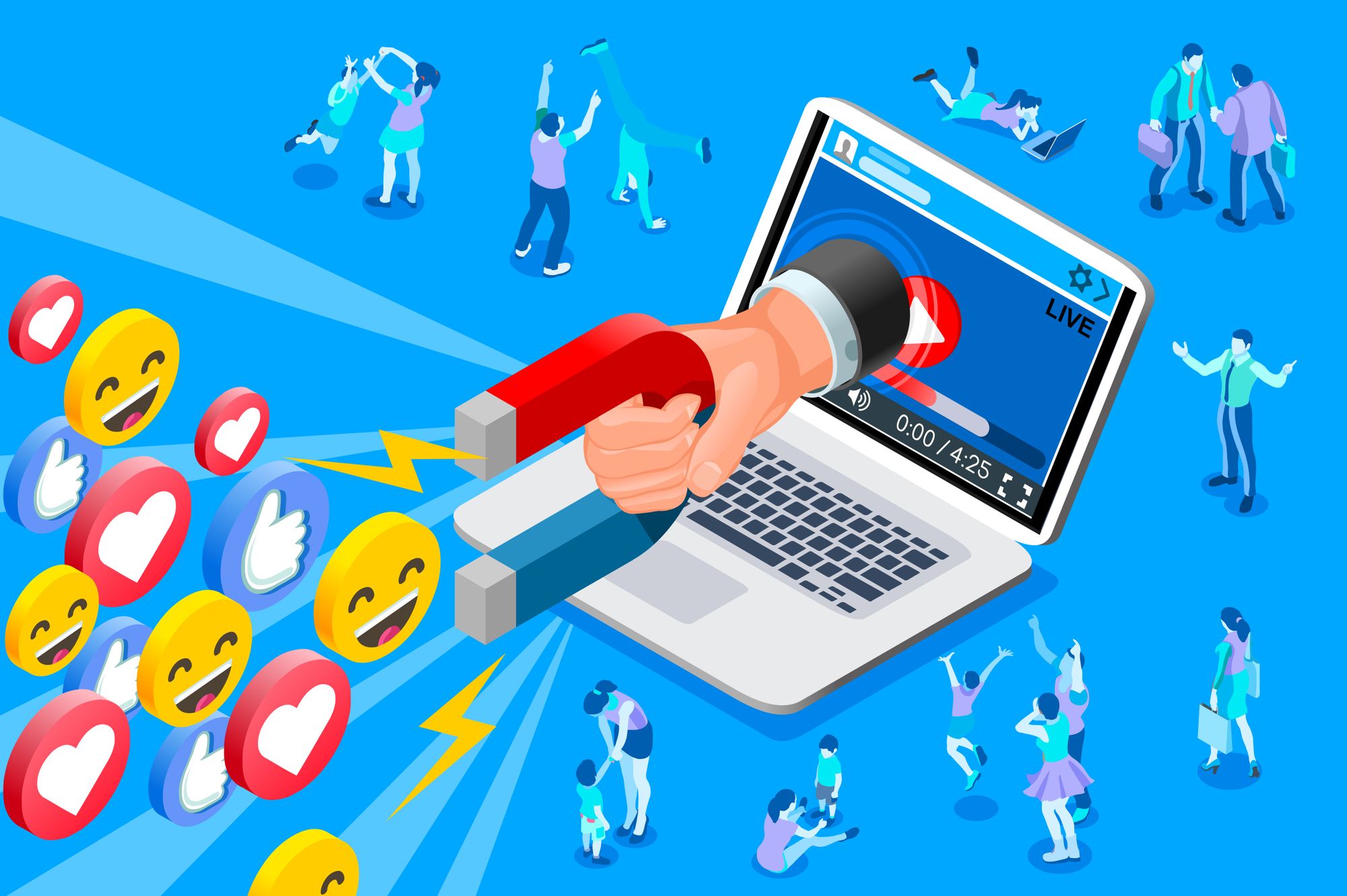 1. Have a plan🎯
It is important to have a plan in mind before you start your social media marketing campaign. You should have some tangible goals in mind so that you can track your progress along the way. You can have goals like getting 1,000 followers before the end of this month, increasing website traffic by 10%, or increasing sales by 10% month-on-month. When you have a goal in mind, you can take deliberate steps towards achieving your goals. You should have a combination of goals. Be ambitious with your goals but don't go overboard.
2. Use content marketing📋
Content marketing is the new way of marketing on social media. It is a strategic approach that says that a brand should focus on the content that they post. The content should have substance. You can create posts that try to help people. For example, if you are a fitness brand, you can publish videos on how to do a perfect push up. Content marketing is the best way to generate organic traffic. This is also a great way to connect with your audience. When your content is helpful, people will be more likely to trust your brand.
3. Video marketing📹
Videos are the most popular form of communication on social media. People are choosing videos as a form of media consumption over traditional modes. On average, an Indian user consumes more than half an hour of video content daily. Videos are also impactful, and you can pack a lot of content in a single video. Keep your videos short and interesting. Create intriguing videos when you are showcasing your products. A shareable video will boost sales.
4. Go live🎥
All the major social media platforms have a live feature now. You can use this feature to promote your brand. There are many things you can do in your live sessions like you can host experts on your live session, you can answer frequently asked questions about your field, you can talk with your audience, etc. This is a great way to increase brand awareness and increase the trust of your brand.
5. Influencer marketing💁‍♀️
Influencers are the celebrities of social media. Many influencers have millions of dedicated followers. You can use influencers to promote your products. You can collaborate with them to create an interesting marketing campaign. Your brand will gain credibility because of the influencer's dedicated following and celebrity status. Partnering up with influencers is a great strategy to promote your business.
Also read:
What is Digital Marketing? Scope, Opportunities & more
What is Facebook Marketing? Here's all you need to know
What is Instagram Marketing? All about Instagram Marketing
LinkedIn Marketing: Everything you need to know
FAQs
Q. Which social media platform should I market on?
Ans: You should market your brand on all of them. Each social media platform has a different user base. For example, Facebook has a lot of middle-aged and elderly users. Instagram and Snapchat have a young user base. To promote yourself to a varied audience, be present on all social media platforms.
Q. Can small businesses be successful in social media marketing?
Ans: Absolutely, small businesses can thrive on social media. They can generate organic traffic without spending a lot of money by focusing on their content.
Q. How do I increase my follower count?
Ans: There are a lot of ways to increase your followers. Post intriguing videos, focus on your content, use new social media features like stories, live, etc. You have to be patient and consistent in your marketing.
Q. Is paid advertising worth it?
Ans: Yes, you can show your ads directly to your target audience with paid ads. This will ensure that your website/app traffic and sales increase massively.
Q. Should I have a common social media strategy for all platforms?
Ans: No, have different strategies for different platforms. The user base of every platform is different. This means that they will respond to different things.
Q. How often should one post?
Ans: You have to find a balance yourself. Try out different strategies and see the advanced analytics that social media platforms have to find out which posting strategy works best.
---