Chewing gums are something we all are familiar with, a majority of us must have tried it at least once in life. Chewing gum is essentially a type of flavoured candy that one can chew, and it has been subjected to multiple evolutions throughout thousands of years. The earliest chewing gums were earlier made of tree sap and relished by the people of the early civilisations. These days, chewing gums are made of synthetic fiber which are cheap for manufacturing, commercialising chewing gums all across the globe. The chewing gum market is a conglomerate industry that indulges numerous other production units such as that of sugar, gum bases, xylitol, and others. This can be further fragmented by dividing the market between two different product types, namely, sugared chewing gums and sugar-free chewing gums. Therefore, the size and potential of the chewing gum industry depends upon several factors based on the product type and the recent demands of the consumers. Some such factors are:
Distribution network of the chewing gum brands which includes supermarkets, convenience stores, online retailers, etc.
Marketing and advertising
Geographic location
Market demand and supply forces
Studies have shown that in recent times, the millennial consumers are immensely inclined towards the sugar-free chewing gums in order to avoid the negative impacts of chewing gums. The following blog will be discussing the best chewing gum brands in India in detail.

TOP 5 CHEWING GUM BRANDS IN INDIA
The biggest multinational companies that are indulged in chewing gum manufacturing are Wrigley and Cadbury, who are currently holding more than 60 percent of the global chewing gum market. In recent years, the global chewing gum market has made a profit of almost 33 billion U.S. dollars. There are several reports that suggest that the Asia-Pacific region, along with the Western Europe region, are high consumers of chewing gums. Under the Asia-Pacific region, the name of India comes third in that list.
Needless to say, chewing gum is one of the most popular commodities in India, mainly because of its low price and immense availability due to high production. India has a high demand for chewing gum and is one of the fastest-growing markets for it globally. Furthermore, since the onset of the Covid-19 pandemic in the year 2020 there has been a huge spike in the sale of Nicotine gums, which help people to quit smoking. These chewing gums are an important part of the chewing gum market and have been subjected to high demand due to the rising concerns related to lung health.
A study conducted by AC Nielsen reveals that the net worth of the gum industry in India is around one thousand crore rupees, with the main targeted consumers being the children and youth population. In India, the main ingredients with which chewing gums are made are:
Sweetener
Artificial flavours
Gum base
A softener like vegetable oils or glycerine
The following segment of the blog encapsulates the top five brands of chewing gums in India.
1. CENTER FRESH
CENTER FRESH  is one of the most widely available and popular chewing gum brands in India which was officially launched in 1994 as a flagship brand of Perfetti Van Melle, which is one of the biggest producers in the sugar confectionery industry. The chewing gums are manufactured by Perfetti Van Melle itself and are heavily marketed and commercialized in India. Perfetti Van Melle claims to be the largest producer of chewing gum in India. The idea of the Center Fresh chewing gums led to the creation of more chewing candy that had a refreshing liquid filling at the center.
Over the years, the brand has seen tremendous growth in business owing to its low pricing strategy and innovative advertisement ideas with its quirky taglines. This further led to Center Fresh becoming one of the most common and largest chewing gum brands in India. The flavours available are peppermint, sweet mint, and spearmint. Center Fresh chewing gums are available online and offline. The price of the chewing gum is very cheap, with a singular pack costing just 1 INR.
2. BOOMER BUBBLE GUM
Boomer Bubble gum is one of the most loved and most popular chewing gums in India. A large section of the population who grew up in the late 1990s would be extremely fond of this brand. Boomer Bubble Gum is one of the most widely distributed brands in India, with over 1.5 million outlets. The brand first came into existence in 1995 through Jayco, a Spanish giant in the confectionery industry which was later acquired by Wrigley, the world's largest chewing brand of all time.
In India, Boomer Bubble Gum is hugely popular among the south Indian population, hence, it has acquired a huge part of this market. However, historically speaking, eastern and northern regions of India are also huge consumers of Boomer Bubble Gum.
The major competitors of Boomer Bubble Gum in India are Perfetti's Big Babol and Center Fresh, Gum India's Big Fun, and so on. The Boomer chewing gum comes mainly in a sweet strawberry minty flavour. The price range, again, starts from 1 INR per mono pack. However, in the recent past, Boomer Bubble Gum's presence in the Indian market has reduced significantly as the brand struggles against fierce competition and rapid fluctuation in consumer taste and preferences.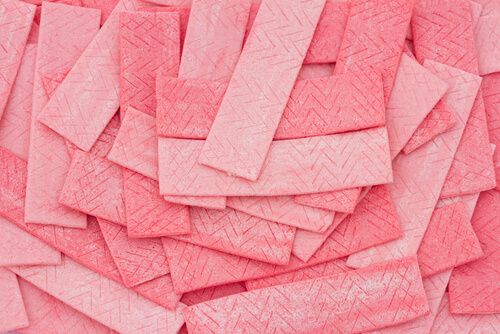 3. BIG BABOL INDIA
Launched in 1994, Big Babol is one of the veteran chewing gum brands in India. This brand was again a creation of Perfetti Van Melle. This soft chewing gum became immensely popular for its idiosyncratic advertisement strategies and a huge range of flavours. The most famous flavour was the pink and white striped flavour which is still recreated by various franchise brands. The target audiences of the company were children and teenagers, and accordingly, the chewing gum came at a pocket-friendly price.
4. HAPPYDENT
HAPPYDENT White is a highly renowned chewing gum brand in India known for its various health benefits. Due to the ingredients used, it comes under the Ayurvedic range of chewing gums. Happydent chewing gum was first launched by Perfetti Van Melle as a tooth whitener that had a soothing cooling effect in the mouth, leaving whiter teeth and a refreshing breath.
Happydent chewing gum is regarded as one of the best chewing gum brands in India because of its immensely beneficial health properties. This chewing gum is made of the following ingredients:
Neem extracts
Pudina oil
Pudina extracts
Eucalyptus oil
Meetha soda (baking soda)
Xylitol
These ingredients essentially endorse oral hygiene and prevent gum or teeth diseases. The Happydent chewing gum has a sugar-free coating that prevents excessive intake of sugar when you consume the gum, which further makes it safer for the consumer to eat at regular intervals. The Happydent chewing gums are filled with a liquid, which freshens the breath and helps the gum boost concentration power and memory recollection. Researchers have confirmed the fact by explaining the process. Studies suggest that chewing gums increase the flow of oxygen in the areas of the brain that are accountable for enhancing the attention span of an individual. It is widely consumed in India, where it comes in various fruit colours and starts from the range of 1 INR per mono pack.
5. CENTER FRUIT
Last but not the least, Center Fruit is one of the best chewing gum brands in India. It was launched as the first-ever fruit-flavoured liquid-filled chewing gum in India in 2006 by Perfetti Van Melle. This soft gum has a center filled with a fruity liquid and is hugely loved by the Indian population, especially kids. Center Fruit chewing gum brand is one of the fastest-growing brands in India. The flavours available in India are strawberry, mango, watermelon, and tutti-frutti.
CONCLUSION
Therefore, these five brand names are in every household in India and are cherished by the Indian masses because of their low price and high quality of the products. Over the years, all these brands have been great successes in the market and continue to be the best chewing gum brands in India.
Also Read:
1) Best Milk Brands in India
2) Best Rice Brands In India
3) Best Atta Brands In India
4) Best Cooking Oil Brands in India
5) Best Toothpaste Brands in India
Stay updated with new business ideas & business tips with OkCredit blogs in English, Hindi, Malayalam, Marathi & more!
Download OkCredit now & get rid of your bookkeeping hassles.
OkCredit is 100% Made in India.
FAQs
Q. Who are the biggest players in the chewing gum industry currently?
Ans. The biggest players in the chewing gum industry are Perfetti Van Melle, Wrigley, Cadbury, Lotte Confectionery, and Mars, incorporated.
Q. Who is the CEO of Perfetti Van Melle?
Ans. Sameer Suneja (2013-Present) is the CEO of Perfetti Van Melle.
Q. Which is the best type of chewing gum?
Ans. The best chewing gums are the sugar-free chewing gums with Xylitol in them.
Q. Will chewing gum help me lose weight?
Ans. Chewing gums does control hunger pangs.
Q. Which country is the largest producer of chewing gums?
Ans. United States of America (U.S.A.) is the largest producer of chewing gums.
---