Your small business's success rests on two pillars: One - Hiring the right team, and Two: Managing the team efficiently. Once you've hired the best team for your business, you need to focus your attention on the second factor – managing your team efficiently.
It is where payroll management software comes into the picture.
What is payroll management software, and why do small businesses need it?
Don't let the big words – payroll management – scare you. A payroll management software/app is a handy tool that helps you handle your employees' financial records seamlessly. It simplifies staff management. From calculating employee paychecks, deductions, bonuses, take-home pay, payslips to figuring the leave records, the staff management system can automate various administrative tasks.
Now that we've seen the broad definition of payroll management software, let's answer the pressing question – why do I need it? Can't I handle it with a simple excel sheet?
Well, the answer is No! Using an Excel sheet or regular pen and paper for employee salary management is not only tedious – but time-consuming, error-prone, and a major bottleneck for the rest of your business activities. Let's backtrack a bit and explain why payroll management software is a must for all businesses, irrespective of the business type, size and industry.
Business tasks can be classified into two broad categories:
Macro tasks – refer to the big picture. It includes framing the growth strategy, handling sales, cash flow, revenue, etc. It's more of a long-term vision that helps you fuel growth.
Micro tasks – on the other hand, are the administrative chores that fuel day-to-day operations. Though these tasks pale in comparison to the macro tasks, they are equally important.
To ensure that your business continues to run seamlessly, like a piece of well-oiled machinery, you need to focus equally on both the macro and microtasks. Employee management software helps you automate the majority of the micro administrative tasks. This way, you don't have to spend resources and time doing the same repetitive tasks over and over again, month after month. It frees your valuable time and mental prowess to focus on the macro and take your business to the next level.
Now that we've seen why payroll management software is mandatory for all businesses, let's explain why OkStaff is the BEST payroll management app in the market today.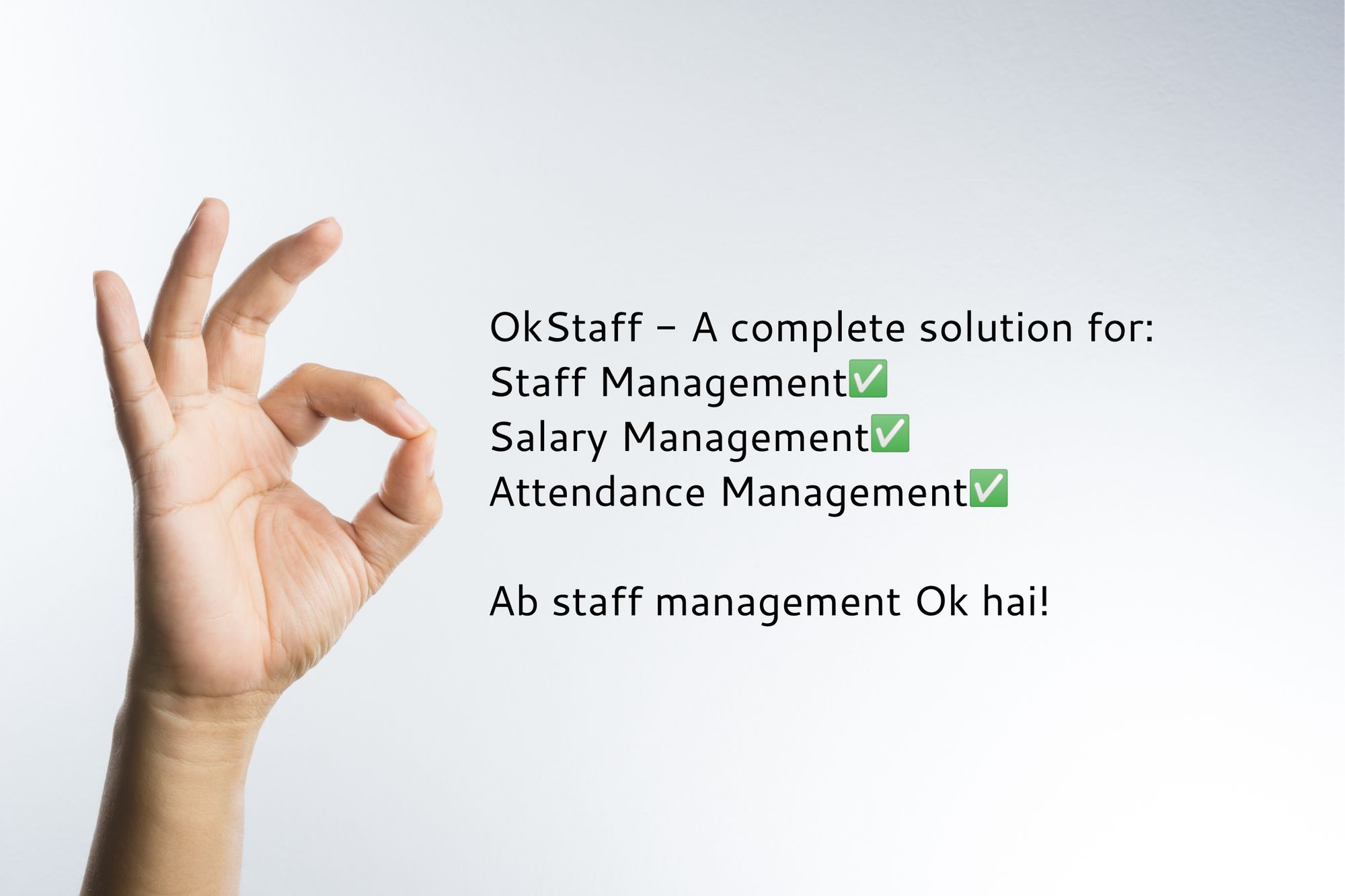 What is OkStaff, and how does it stand out from other Payroll Management Software?
OkStaff is the latest launch from the house of OkCredit. It's an intuitive and user-friendly staff management app designed to make employee management a breeze for small business owners. Available in 10 languages, the app makes it super easy to handle employee salary and attendance. It's a mobile-based app that handles staff salary and attendance tracking with just a few taps on your mobile screen.
Let us explore why OkStaff stands out as the most efficient and effortless way to handle staff salary and attendance.
It's free to use – yes! You read that right. You can download the app for free from Google Playstore and start tracking employee wages, attendance and more.
As part of the "Atma Nirbhar" campaign, OkStaff is proudly made in India and takes the nation on the way to "Digital India" by providing small businesses with an easy and effortless way to handle employee management.
It's a complete employee salary system. From calculating daily wages to monthly salaries, factoring in leaves, including bonuses and more, the app handles the A to Z of employee salary calculation.
You can consider it as your digital employee manager. From tracking employee attendance to calculating leaves, wages and more, it eases all your worries regarding staff management, giving you more time to focus on core business activities.
Standout Features of Ok Staff
Easily calculate employee wages, compensation and salaries. You can calculate employee salaries for the month, week, day or even on an hourly basis.
Automatically calculate upcoming wages, salaries, pending salaries for each employee. Also, get accurate updates for each salary day.
Track employee attendance effortlessly – Differentiate between full-day and half-day leaves—also, reward employees who put in extra time by tracking overtime.
100% Secure – OkStaff is 100% secure and doesn't share your data with third-parties. Also, the app automatically backs all your records to avoid data loss due to a damaged device.
User-friendly – The intuitive and user-friendly UI of OkStaff makes it a breeze to use, even for those without any finance background. Get tonnes of work done in just a few minutes.
High accuracy – This is one of the biggest strengths of OkStaff. The app is 100% accurate for salary computations as well as attendance management.
Customise Staff Information – Include your staff's details like name, profile photo, contact address, mobile number, and more. Maintain a separate list for clients.
Download and share salary data – OkStaff makes it easy to download monthly, weekly attendance records, salary slips and share them with corresponding employees in PDF format.
Get expert assistance – OkStaff is backed by a team of trained customer service representatives who help you with any queries or troubles you may face.
Free to use – OkStaff is available for free download for Android smartphones.
How can my business benefit from OkStaff?
Eliminate pen and paper salary calculations – Automated wage calculations can help you calculate employee wages effortlessly. Also, the automatic update feature in-built in the app calculates upcoming and any remaining salary payments quickly.
Maintain a transparent relationship with your staff – With the OkStaff app, employees get a clear picture of salary calculations. Employees can see an accurate breakup of their salary. This way, they know how much they're getting paid and for what. There is no chance for miscalculations and biased wages, helping you enjoy an open workplace relationship with your employees.
No need to maintain multiple ledgers and expensive software for salary management anymore. Everything is done with a single app.
Send automatic Whatsapp notifications to employees once the salary is paid. For employees who don't own a smartphone, messages are sent via SMS.
Simplify Staff Management with OkStaff and Grow Your Business
Staff management is one of the biggest concerns for small business owners, entrepreneurs, and other organisations like schools, colleges, banks, etc. With OkStaff, salary management is not only effortless but becomes organised.
You don't have to maintain separate written ledgers, Excel sheets to calculate employee salary and attendance. Everything is available for your tracking right at your fingertips with our handy app. It organises employee management for both small businesses as well as medium-scale enterprises.
With salary management handled automatically, you can focus your efforts on your core business practices. Download Ok Staff, the best free staff management system in India and digitise staff salary and attendance records seamlessly.
Also Read:
1) OkCredit: All you need to know about OkCredit & how it works.
2) OkCredit: Simple, Paperless & Secure solution for businesses
3) OkStaff: Benefits, Better Staff Management & More!
4) OkStaff: Here's your ultimate FAQ guide on OkStaff & how it works
FAQs
Q. Which businesses can benefit from OkStaff?
Ans. Irrespective of the nature, industry and size of the business, OkStaff can benefit all. Here are some of the companies that can streamline payroll management using OkStaff:
Wholesalers & Distributors
Hotels & Restaurants
Medical Stores & Pharmacies
Supermarkets, Grocery Stores, Fruit & Vegetable Vendors, Dairy Stores
Retail Outlets – Mobile, Garments, Accessories, etc
Schools, Colleges, Coaching Institutes
Banks, NBFCs and other Financial Institutions
Q. How do I contact the customer care team of OkStaff?
Ans. For any queries or information regarding the app, you can connect with the customer care team via:
Whatsapp - +91 95380 28406
Email – help-oktaff@okcredit.in
Q. Where can I download the OkStaff app?
Ans. OkStaff app is available for free download at the Google Play store. You can download it on your smartphone by clicking here.
Q. Is OkStaff available only in English?
Ans. No, The app is available in ten languages, including English, Hindi, Tamil, Gujarati, Telugu, Bangla, Marathi, Malayalam, Kannada and Punjabi.
Q. Is OkStaff free to use?
Ans. Yes, OkStaff is a free payroll management software available for free download on both Android and iOS.
Q. How do I get started with OkStaff?
Ans. Check out the step-by-step guide to getting started with OkStaff.
1. Visit the Google Playstore and search for OkStaff. Download and install the app.
2. Verify your mobile number with an OTP.
3. Enter the name of your business/company/organisation.
4. That's it. You have logged into the app, and you can start exploring the various features.
---