There are various business options that you can start easily with little capital. One of them is a pickle or achar business. There is a huge market for it and you can kick start the business with minimum expenses.
You can either start the business from your home, or you can arrange for a dedicated manufacturing unit.
Steps To Start a Pickle Business
There are various steps you will need to follow before you start a pickle business. These steps are as follows:
1. Which Pickle to Produce
The first step is to decide which type of pickle you want to produce. There are numerous varieties of pickles you can produce, such as lemon pickle, chilly and garlic pickle, mango pickle, carrot pickle, mixed vegetable pickle, fish pickle, cabbage pickle, and so on.
Pickles come in a variety of tastes. There are sour, sweet, sweet and sour, bitter, as well as acerbic pickles.
Each variety of pickles has its own customer base. You need to choose your pickle type depending upon which type of consumers you are catering to.

2. Choose The Infrastructure For Manufacturing The Pickles
Before you start manufacturing, you will need a manufacturing infrastructure in place. You will need capital and equipment before you start making pickles on a large scale.
You can either make pickles at your home, or you can arrange for a dedicated manufacturing unit. However, you need machinery to aid you in the pickle making process.
If you want to keep your manufacturing small, you can make pickles at your home. If you want to start your pickle manufacturing on a bigger scale, you will need a separate manufacturing plant.
You will also need proper equipment, from utensils to the pickle making machines needed to process the raw materials into a complete product. However, compared to other businesses, the pickle business in India requires lesser equipment.
If you are making the pickles at home, you will only need vessels to mix the ingredients and marinate the pickle, and the jars and containers to store them.
If you are going to manufacture pickles on an industrial scale, you will need bigger machinery, such as a cutting machine, pickling machine, and mixing machinery. Along with this, you will also need large containers to store the pickle, as well as jars for packaging and then delivering it to the end consumer.
3. Arrange for the Registration and Licenses
There are various prerequisites before you start a pickle business. The various licenses and registrations are an important part of these prerequisites. Without getting these registrations and licenses, you will not be able to manufacture and sell the pickles on a medium or large scale. Some of the important registrations and licenses are:
Food Safety and Standards Authority of India, or FSSAI, is responsible for protecting and promoting the health and well being of the consumers through the regulation and supervision of food safety and quality. It is an autonomous body established under the Ministry of Health and Family Welfare, Government of India.
The FSSAI is a compulsory license and registration for any business organisation which deals with food or food products. Every packaged food needs to come with an FSSAI certification number, which indicates that the food is meeting the required quality.
Based on your annual turnover, you will need to apply for an FSSAI certification. You can refer to the FSSAI checklist to know whether you need the registration or not. This registration will state all the protocols and standards you will need to follow while manufacturing the food items. These standards will need to be followed rigorously.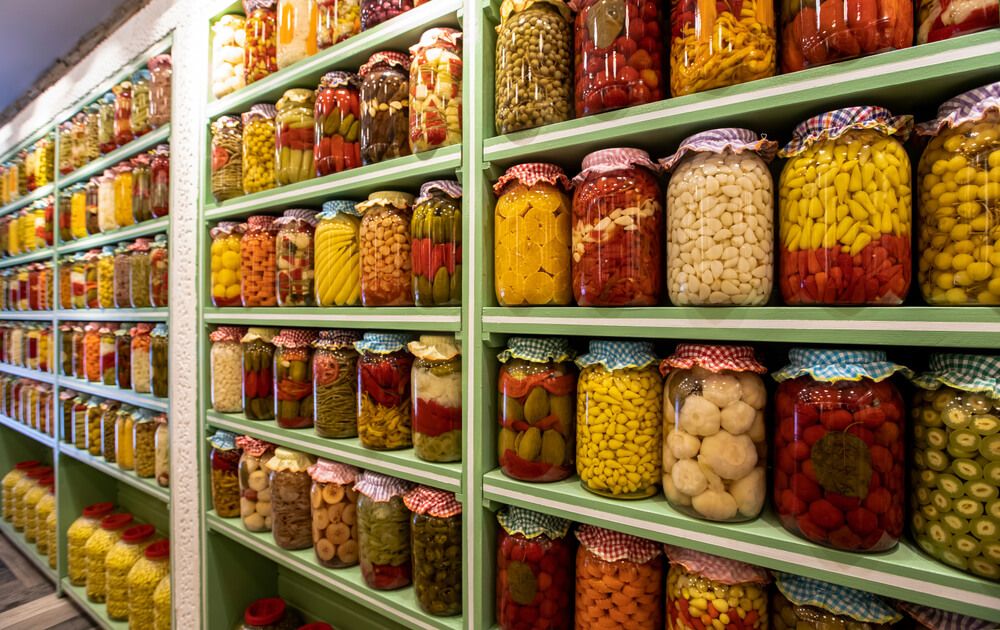 Shop Act licenses are those which are required before you establish a shop within any municipality limits. This Act regulates the payment of wages, work hours, the holidays required to be given, terms of service, and other requirements and conditions for a shop. This applies to a pickle shop/business as well.
It is a mandatory license and it needs to be displayed in a prominent place of the business establishment.
Along with these, you will also need a GST registration, Udyog Aadhar registration, PAN Card registration and business entity registration. If you are going to establish the pickle business as a partnership or a company, you will need to get it registered under the Companies Act, 2013. If you are going for a sole proprietorship, then registration under the Companies Act is not required.
You will also need to provide valid address proof when you apply for any of these registrations.
4. Storage and Preservation
You will also need proper storage and preservation facilities. The vegetables and other food items needed for making pickles are subjected to brining. Brining is a process in which vegetables and other raw food items are kept in salted water for fermentation. This way, they are protected from fungal attacks and can be preserved for a longer time.
You will also need storage and space for your ingredients and the pickles. If you are trying to establish a home business, you will need minimal storage. However, if you want to expand your business and cater to more customers, you will need dedicated storage for your raw materials and final product.  
5. Managing Your Employees
For any business, managing your employees will either make or break your business. The same is the case for those managing a pickle business.
If you are managing a home pickle business, the only worker is you, or a few other people you may hire. However, if you are manufacturing at an industrial scale, you will need more employees such as factory workers, supervisors, office staff, accountants, sales team, etc.
6. Packaging and Pricing the Pickles
Before you sell the pickles to the consumer, you will need to focus on the packaging. You can either store your pickles in glass, plastic, or any other material equipped to store the finished product. The packaging material you choose depends upon your budget, transportation considerations, and your choice as a pickle producer.
You will also need to price your product appropriately. You can't price it too high or too low. If you price it too high, you will not be able to attract consumers; if you price it too low, people will get suspicious of the quality.
You should price your product around the standard market price. It can either be a little higher or lower, depending upon your branding, cost of production, and distribution costs.
7. Promotional Tools
There are various promotional tools you can use to attract more customers. You will need to use these marketing tools efficiently to attract more customers at a minimum price. You can use traditional forms of marketing, such as advertising, direct marketing, and sales promotion. This will be helpful if you are planning to go big.
If you are running a home-based business, you just need to maintain direct contact with your customers.
You need to build a website and create a social media account to increase your reach. If you are doing a home business, then using WhatsApp will suffice.
8. Pickle Business Investment
These are the following investments you will need for establishing a pickle business, whether you are planning to manufacture it on an industrial scale, or are planning to make pickles at home.
Home Business - An investment of around ₹10,000 in jars, utensils, and ingredients should be enough seed money.
Manufacturing Business - The cost of machinery and labour will be included in the total cost.
Conclusion
In short, pickle making business is a lucrative business opportunity that requires relatively little capital and labour. It is a great business you can start from the comfort of your home.
It has a good earning potential and hence, you can explore this option.
Also Read:
1) Why Do Businesses Need a Good ERP System?
2) How to manage the staff & maintain sales?
3) 7 Different Types of Loans for Your Small Business
4) Hiring and Managing People Wisely: HR Mantras For Small Businesses
5) OkCredit: Simple, Paperless & Secure solution for businesses
Stay updated with new business ideas & business tips with OkCredit blogs in English, Hindi, Malayalam, Marathi & more!
Download OkCredit now & get rid of your bookkeeping hassles.
OkCredit is 100% Made in India.

FAQs
Q. Can I start pickle making business at home?
Ans. Pickle making business is one of the easiest businesses to start from home. All you need is some ingredients, utensils, and jars.
Q. Which type of pickles can I make?
Ans. You can make various types of pickles, such as mango pickles, lemon pickles, chilly garlic pickles, etc.
Q. Which registrations will I need for my pickle business?
Ans. If you are planning to run your business on an industrial scale, you will need FSSAI Certification, Shop Act License, GST registration, Companies Act Registration etc.
Q. How should I price my products?
Ans. You should price your products according to the standard market price. If the price is too high, people will not buy it. If the price is too low, people will doubt it's quality.
---