Over the years, the Indian jewellery industry has witnessed dramatic change. The Indian fashion jewellery sector has emerged as one of the country's fastest expanding commercial areas.
Due to increased demand, the artificial jewellery manufacturers in India may reach INR 65,620 Crore by the end of 2022. The artificial jewellery manufacturers in India predict the sector to develop at a CAGR of roughly 23.5% between 2017 and 2022.
Growth of the Indian artificial Jewellery Market over the years
Let us learn about Artificial Jewellery Manufacturers in India in Detail
1. Kanhai Jewels:
Kanhai Jewels, founded in 2001, manufactures Indian and trendy Western jewellery and exports traditional Indian jewellery. It has grown to be one of the major artificial jewellery manufacturers in India.
The organisation consists of high-quality items such as Antique Jewellery, Kundan Jewellery, Indo-western Jewellery, Designer Jewellery, and Western Jewellery.
The variety of products offered by the organisation are:
Pendant
Studs
Bangles
Bracelet
The organisation believes in providing quality products, and therefore, abides by the following parameters:
In-house design and manufacture of units
Complete client satisfaction
Incorporating both classic and modern styles
Standardised quality control
Distinct and appealing Designs
Quick processing of consignments
Scheduled delivery.
The organisation's mission is to create artificial jewellery that makes a statement for every lady.

2. Mangalmani Jewellers
For many years, Mangalmani Jewellers has been among the leading artificial jewellery manufacturers in India. It began its mission to become the most powerful in the Indian jewellery industry in 2006.
Their team of top designers, artisans, and specialists spares no effort in providing the most appealing designer artificial jewellery. It has a wide variety of gorgeous imitation jewellery for any occasion.
They have been providing high-quality services to customers since 2006, and they use the most advanced technology and artisanship to exceed their customers' expectations. The firm is a renowned manufacturer, wholesaler, and exporter of artificial jewellery, Asian jewellery, ethnic jewellery, and other things.
The following are some of the organisation's strengths:
Manufacturing only high-quality export jewellery while conforming to all international standards
Provide the highest quality while also guaranteeing the lowest factory prices
Create customised jewellery based on customers' specifications
In-house Jewellery Designing Team that contributes to the creation of unique creations
A strong Customer Service Team composed of competent Customer Service Representatives.
3. Manek Ratna
Manek Ratna, established in 2010, is a well-known artificial jewellery manufacturer in India. The firm specialises in traditional Indian jewellery that has the appearance of real gold/diamond jewellery. They ship artificial jewellery from Mumbai's Malad and Zaveri Bazaar to all Indian states and towns.
It is a professionally managed company specialising in various kinds of jewellery. Because of the high-style appeal, their artificial jewellery is popular among clients. Furthermore, excellent finishing, modern trends, unique designs, long-lasting shine, knotted patterns, and refinement is a cherry on the cake, which is their pieces are in demand by clients.
They provide a wide variety of Artificial Jewellery items. One of the most specialised varieties is the black polished silver earrings. Manek Ratna retails its earrings in the price range of INR 100 to INR 1,000.
The company's annual turnover ranges from INR 50 lakhs to INR 1 crore. It exports to countries like Saudi Arabia, New Zealand, the United Kingdom, Mauritius, and the United States of America. The exports of the company contribute to 20% of its revenue.
Let us glance at the USPs of the organisation:
Strong financial performance and total quality management
An extensive product range
Excellent production capacity
Availability of customised solutions
Thorough testing of the final product
4. EON Exports
EON EXPORTS has established itself as the top supplier among the artificial jewellery manufacturers in India. Since its inception, the core principles have been creativity, productivity, and continuous growth.
They believe in service quality and use a customer-centric strategy that covers the organisation through impact on every department. The organisation focuses on high-quality products, top-quality packaging, affordable pricing, and on-time service.
Its devoted workforce guarantees that the examination of the final product for quality complies with the client's demands. The organisation conducts a two-way inspection. Quality comes with precision when you work with them.
EON Exports' faithful product testing team works in groups to continuously check the product at their manufacturing facilities. They carry out thorough testing and packaging at the well-equipped shipping units to guarantee good quality. Customers appreciate them and keep coming back for more.
5. Alex Jewels
Over about three decades, Alex Jewels have been committed to creating fine jewellery and providing a wide range of unique items for all styles and celebrations. They will deliver the most excellent quality items at the most affordable costs, be it a handmade wedding ring, a dazzling pair of pearls, or a gorgeous pendant.
The business has been serving customers worldwide for 30 years and is among the best artificial jewellery manufacturers in India. Their dedication to service quality is unmatched. The qualified team gives customers the knowledge and attention to safely spend on the jewellery.
The firm doesn't believe in subcontracting. The trained team will themselves tackle the most basic or complex works and any repair services. Their team is often happy to advise, talk about innovative ideas, and enlighten on the massive selection of items.
At Alex Jewels, you will feel at home. If you trust them for a unique piece, you should start a relationship with them.
6. Lotus Jewellery
Since four years before Independence, this Jain organisation has been a renowned player in the jewellery sector. It does not end at large-scale manufacturing. It uses Beam and CNC technologies to create 22 Carat and 18 Carat jewellery.
Lotus employs cutting-edge equipment to create the best products, most recent styles, and the most expansive collection of jewels. It delivers the most elegant designs with the assistance of professionally trained creators, expert artisans, a skilled R&D group, and advanced technology! Today, Lotus is among the topmost artificial jewellery manufacturers in India.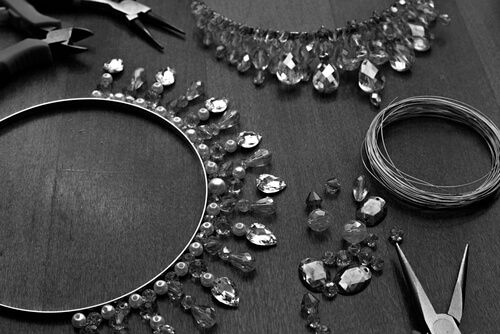 A journey of four generations
Mr Saubhagychandbhai Talakchandbhai Vasa accepted a position as the Chief Engineer of the Gondal state but quickly expanded his career journey by joining as a partner in a firm in 1935. In 1943, he started a business, 'Jain Enamel Works,' in Rajkot.
Mr Hashmukhlalbhai Saubhagychandbhai Vasa joined the family firm in 1950. He was instrumental in expanding it across India. The father-son pair decided to start making jewels in-house in 1960. Hasmukhlalbhai is now a consultant to Lotus Jewellery Creation and its related firms.
Mr Nalinbhai Hashmukhlalbhai Vasa joined his family firm in 1975 after qualifying with a B.Com and a diploma in Taxation from Saurashtra University. In 1989, he founded the business Jain Bright Steel Traders. Finally, in 1999, he established Lotus Jewellery Creation, which gained prominence in the jewellery industry.
Shortly after that, he expanded this firm across India by introducing the Amor brand and other lines of compact Indo-Italian jewellery. Furthermore, he is presently in charge of the jewellery business, and he is involved in R&D activities and product testing in jewellery production.
Mr Vineet Kumar Nalinbhai Vasa joined his family firm in 2010 after earning MBA degrees from Gujarat University and the University of Scranton. He successfully took the firm to an international scale by exporting jewels to many nations.
He is currently in charge of the firm's R&D, Promotion, and Exporting divisions, using modern methods across the lines of Indo-Italian jewels released under his management.
Conclusion
Artificial jewellery manufacturers in India have been witnessing a great demand from the Indian market, owing to the country's economic growth and increasing purchasing power of Indian consumers. Furthermore, the high import duty on gold has led to an increased demand for artificial jewellery manufacturers in the country.
Also Read:
Stay updated with new business ideas & business tips with OkCredit blogs in English, Hindi, Malayalam, Marathi & more!
Download OkCredit now & get rid of your bookkeeping hassles.
OkCredit is 100% Made in India.
FAQs
Q. Which place in India is well-known for its artificial jewellery?
Ans. Sawantwadi, Goa and Hubli and Dharmasthala in the Konkan region are well-known for artificial jewellery.
Q. Which state is well-known for its artificial jewellery?
Ans. Rajasthan is well-known for its artificial jewellery.
Q. Is the artificial jewellery industry lucrative in India?
Ans. It is one of the largest businesses in the world and contributes more than 5% to the GDP.
Q. What is the profit margin in artificial jewellery?
Ans. One can earn around 15%-20% in the artificial jewellery business.
Q. What is the HSN code for artificial jewellery?
Ans. 7117 is the HSN code for artificial jewellery.
---