Lucknow is known by several names like 'City of Nawabs' and 'City of Tehzeeb'. The place became prominent and commercially influential 1775 onwards when Asaf-ud-Daula, the fourth Nawab of Awadh (pronounced Oudh), shifted his capital from the nearby town of Faizabad to Lucknow.
The British gained control of the city from the Awadh rulers in 1857. They developed the town, and the Hazratganj area was modelled to resemble a commercial street in London. Even today, some of the Victorian-styled buildings silently announce their glorious past.
Lucknow Markets
A long time has passed since the Nawabs' rule, but their rich tradition and heritage of delicate embroidery– chikan (as it is known in India), handicrafts and exquisite jewellery, and ittar still live on.
Zardosi embroidery and works of chikan are the very own tradition of the city, and visitors flock to Lucknow markets for clothes with this traditional embroidery. Several shops across different markets in Lucknow have been selling this traditional item for generations.
In today's commercial world, marketing plays a dominant role, and one can get any item of choice almost everywhere. But there are some places that still retain the tradition and offer vintage charm, like the Lucknow markets. A walk along the narrow lanes of the markets, some of which are dark even during the daytime, will bring out an unbelievable feeling of shopping amidst a charming background of history, tradition and culture.
A historical city like Lucknow will have many important markets to be visited. We have selected some of the popular and historically significant ones.
1. Aminabad: One of the oldest local markets in Lucknow
Aminabad bazaar, as it is known, is among the oldest markets of Lucknow. Aminabad first got a taste of commercial development around the 1840s when Imad Hussain Khan Aminuddaulah, the prime minister of Nawab Amjad Ali Shah (the Awadh ruler), went ahead with the development of the area. Four gates were constructed by him, giving the place an enclosure. The gates do not exist now, but a mosque that was part of the giant gate can still be seen today (known as the Kaalan Phatak Masjid).
As in the time of Nawabs and during the British rule, Lucknow Aminabad was a centre for unmatched fashion and handcrafted items.
A visit to the market will leave you puzzled for choice with multiple shops selling chikan clothing, ornaments, jewellery, footwear and the like. Most items sold in this market are made locally, and there are embroidery workers who are supplying their craft to selected shops for generations. Both the seller and the buyer happily enjoy polite bargaining in the true tradition of Lucknow!
A great place to buy wedding attires, the market will take you back by several years with its narrow lanes and a mix of Mughal and British styled buildings (many of them dilapidated).
What to look for: Chikan clothing and other garments, saree, wedding accessories, footwear, excellent street food-chats, and kebabs.
The market remains closed on Thursdays.

2. Hazratganj: Most popular market in Lucknow
Hazratganj got its name in 1842 after Nawab Amjad Ali Shah known by his alias, Hazrat. Today's market area presents a sleek cosmopolitan look with a combination of old buildings with traditional Mughal architecture and walkways, benches and fountains resembling the Victorian styles from the British era and the modern-day glass towers.
While many of the products sold are the same as in Aminabad or other Lucknow markets, the shops here are more upmarket and offer costlier varieties. High profile jewellery shops allure you to enter inside by their exquisite decoration
The market is the best place to buy handicrafts and other locally handmade items and for computer-related products. Many shops sell handmade footwear (slippers, jootis), which complement the ethic dresses available one shop away. Tourists and other visitors to the city prefer the Hazratganj market for being centrally located. Government emporiums of many states are found here. The trading here happens mostly on fixed prices without much bargaining, thus reducing the buyer's chances of getting duped on quality or price.
You can find several multinational food joints such as McDonald's, Pizza Hut, and Subway here. Many hotels located at Hazratganj make the area more attractive for travellers.
What to look for: Handmade clothing for men and women, khadi items, embroidered saree, ornament and chikankari, fast-food joints.
Hazratganj market is closed on Sundays.
The Janpath market is an extended part of the Hazratganj market and is another popular place. In contrast to Hazratganj, you can shop here for items at discounts or reduced prices. You may even bargain for a fair deal! At Janpath, like in other markets, you will find leather items, chikan showrooms, ethnic garments, and woollen perfumes.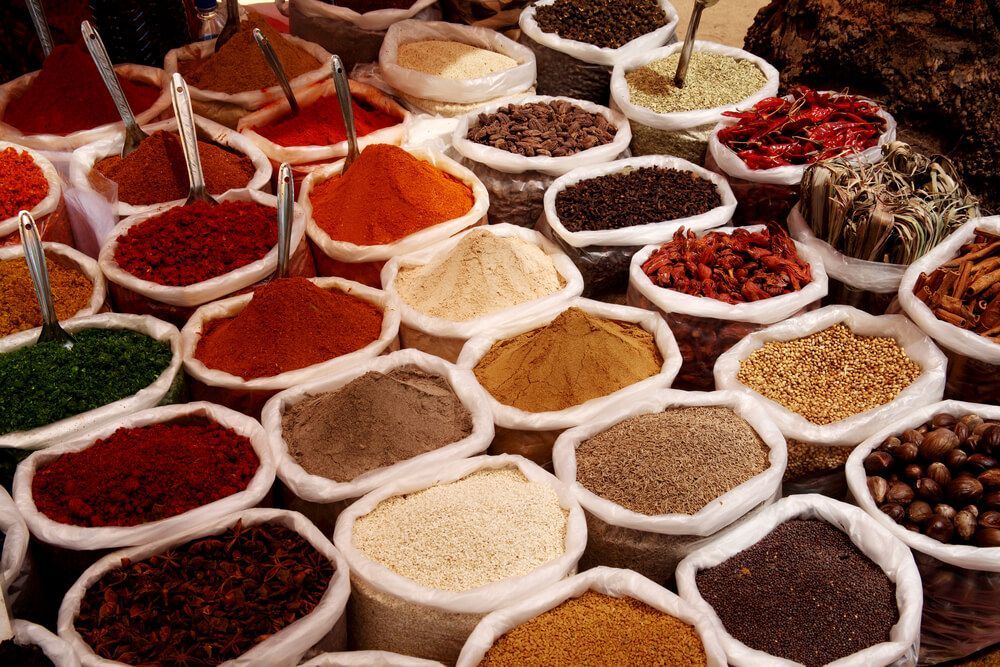 3. Nakhas Market: Popular for wooden handicraft and local food
The 200-year old Nakhas market is another jewel in the list of heritage marketplaces in Lucknow. Here, you will find many family-owned shops running successfully for several generations. This market is famous for wooden handicrafts, home decor items, and paintings. An exciting addition to the variety is the pet shops where one can find several birds and pet animals. On Sundays, there is a special section selling second-hand goods that are very popular with the locals.
What to look for: Wooden handicraft, jewellery, paintings (also miniatures), authentic local food— biryani, kebab, and paan.
4. Chowk: Known for jewelleries and makeup acessories
The age-old Chowk market is another heritage place famous for jewellery and makeup accessories, including jewellery decorated with semi-precious stones. It is also known for the perfume shops (ittar), footwear, flower and handcrafted items like lampshades and other decorative pieces.
Chowk is also famous for traditional local food– kebab, biryani and kofta. Chowk is frequented by tourists visiting the city as it is located near the Bara Imambara, a major sightseeing attraction.
What to look for: Jewellery and accessories, ittar, handcrafted items, local food.
This market is closed on Thursdays.
Other famous markets in Lucknow
5. Bhootnath Market: Shop for kitchen utensils, household items
The name derived from the temple of Lord Shiva (bhootnath) in the locality. Mostly known for spices, fresh vegetables, kitchen utensils and other household items, it is frequented by the locals in the morning for daily needs. Like any other market, every type of commodity is available here. It is also famous for traditional food stalls selling local cuisine.
What to look for: Kitchen utensils, spices, fresh vegetables, household items, food.
6. Latouche Road Market: Shop for electronic items
This market is mainly for electronics, electrical items, consumer durables (like TV, fridge, AC) and other gadgets, including mobile phones.
7. Alambagh market: Shop for jewelleries, fashion accessories
It is another famous place known for the shops selling gold-plated jewellery and fashion accessories. One portion of the market is for fruits and vegetables and groceries. This market is well-planned, and shops are systematically arranged. Many popular sweetmeat shops are also located here.
What to look for: Jewellery, fashion accessories, groceries, sweet shops.
Stay updated with new business ideas & business tips with OkCredit blogs in English, Hindi, Malayalam, Marathi & more!
Download OkCredit now & get rid of your bookkeeping hassles.
OkCredit is 100% Made in India.
FAQs on Lucknow Markets
Q.  As a visitor to Lucknow, where to buy sweets. Is there a famous shop?
Ans. Lucknow is a paradise for the food lover, and good food (sweets included) are available across the city in most market places. You can try Ram Asrey at Hazratganj, one of the oldest shops (established 1805). Their signature items include mewa samosa, kesariya navratna gujiya, pan ki gilori and malai chaap.
Q.  I want to try the famous Lucknow-i-Kebabs and also visit some embroidery shops. Which market should I visit?
Ans. The ideal place for you is the Aminabad market. Within a short radius, you get a wide choice of shops and item range. You will get an excellent opportunity to shop for exquisite, handcrafted clothes and that too in a reasonable price range.
Aminabad market has many shops selling kebabs and other non-vegetarian Awadhi delicacies. The famous tunday kebab is located in Aminabad area.
Q.  Are there shopping malls in Lucknow?
Ans. A shopping mall is a modern-day market concept, and some people prefer going there. Lucknow has many shopping malls like Lulu mall, Saharaganj mall, Phoenix mall, Fun Republic mall etc.
However, the real pleasure of shopping is in the traditional markets of Lucknow, which offer an unending option of items at reasonable prices and a historic ambience which is typical of this city.
Q.  Which market is suggested for a quick visit?
Ans. You can conveniently cover Chowk market combining it with a trip to the Bara Imambara, a significant Lucknow attraction.
For those who fancy the Lucknow speciality of non-vegetarian kebabs, Aminabad is a must-visit place. Apart from the kebabs, a wide range of clothing, handicrafts, takeaways, and many other items are available.
---