India is projected to be a USD 4.9 trillion economy in 2024, where the business sector is going to have a lion's share in such gigantic growth. With around 6.34 crore businesses throughout the country, small scale businesses prove that they are here to stay. Small scale businesses, which come under Micro, Small and Medium Enterprises (MSMEs) contribute nearly 6.11% of the Indian GDP. The business sector employs around 12 crore persons across India and carries a load of 45% of total exports from India. We are living in such an unpredictable era, where numerous people are losing their jobs because of the pandemic. Then why wait for a new opportunity when you can create one for yourself?
Sounds interesting? It's worth investing your time along with money and it's as interesting as it sounds. If you are searching for some of the best business ideas then you are in the perfect place. Here you will have ample unique business ideas, to start your best business under 50000 INR. Here we have some new business ideas for you!
1. Pottery
We live in a country where we have people with tremendous skills and talents. Everyone in their unique way is an artist. So why not make an earning from it? Let's see how it goes:
In today's world, when people are coming to know the importance of water stored in an earthen vessel, pottery has become a trend across India. So if you are a skilful person in this field, then you have various ways to earn. Nowadays, the most popular online shopping and e-commerce websites like Amazon and Flipkart allow you to sell your product on their platform.
So once you are done with your creation you can sell your pots on online shopping platforms. This is one of the most underrated businesses, but it's worth investing time and money. Later on, you can also establish your factory of pot making and take this small business idea to a large scale industry.
2. Cloth Industry
India is a country which is known for its diversity around the globe. Out of 365 days in a year, 100-150 days we have some festivals and no one can even think of celebrating a festival without new clothes. So the cloth industry is something which can be profitable to you around the year. Because on average, every month we have some or the other festival. It's one of the best business ideas that one can think of to start a business under 50000.
Stepping into the clothing industry doesn't mean you actually have to establish a textile industry to manufacture but you can also become a dealer or distributor. You can just directly buy the products in bulk from the manufacturer and then sell them to the shopkeepers with a very high margin. Instead of selling to shopkeepers, you can also opt for online e-commerce websites. It's surely a small profitable business idea as it's experiencing 12-14% of growth every year.
Must Read: How To Start Own Clothing Store In India?

3. Food Service
Food has always been a boon for those who are starving. So, if you are into this business, then you are going to earn money as well as blessings from the people. There are types of services you can start with. Firstly, the tiffin service can be a small business idea from home. You can provide tiffin service to the people who have a day to day basis job and others who are living alone because of educational purpose or business purpose or anything else.
Besides this, you can also use food delivery services like Zomato, Swiggy, uber eats, etc. so that your food service will not only be restricted to tiffin service but it can exceed the limits and make a profitable gain in this best business under 50000.
Also Read: Food Business Ideas in India
4. Photographer
Photography also comes under the category of best business under 50000. It's also considered as some of the best business ideas. If photography is a field that inspires you and excites you then you should try your hands into this. You can find a handful of cameras which come under 50000. You can either go for Canon or Nikon as these are the top brands across the globe. You can also go for different companies like Sony, Fujifilm, Olympus, Panasonic, Pentax, Leica, etc.
There are numerous ways to earn from photography. The following is the list for the same.
Pre-wedding shoot, post-wedding shoot, wedding shoot, etc
Travel Photography
Food blogging, vlogging, etc
Party Photography
Parties like, get-together party, house-warming party, birthday party, etc and the list goes on.
This industry has been in demand for the last 5-7 years, and is still on the rise. You can count this industry as one of the best business ideas.
Also Read: How to Become a Professional Photographer?
5. Chips making factory
If you are watching a match or if you are watching a movie, if you are sitting outdoors or indoors, one thing you will find common in these situations is that most of the time, one will have a packet of chips in his/her hand.
Potato cost- Rs. 300-500 per 10 kg
Oil- Rs. 70-80 per litre
Utensils- Rs. 5,000 (one time cost)
Packaging- Re.1 per pc
So, according to the amount of production you can buy the ingredients. But one can surely buy all these things for chips making business under 50000.
Also Read: Best Chips Brands in India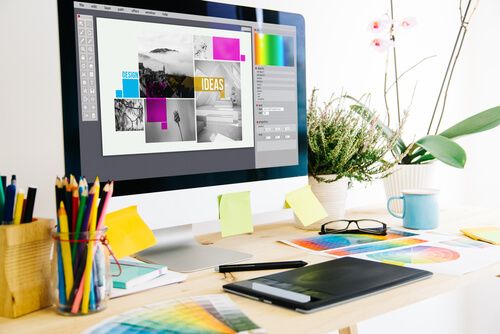 6. Designing
If you are a person into designing and stuff, then you are at the right place. Designing is everyone's cup of tea but it's worth investing time and money. There is numerous software available on the internet, like Adobe Photoshop. It's a unique business idea that you can start from the very comfort of your home. The things you need are a PC, designing software and designing skills, and that's enough to get started.
You can also do freelancing with different organisations so that you can enjoy your freedom. Later on, you can also open your own company and hire other designers to work under the banner of your company.
Further Read: How to Start an Interior Designing Business?
Conclusion
Since 1995, when the internet was introduced to Indians, it has proved to be a boon. Smartphones, innovations, and changing ideas about the nature of employment have made starting a small scale business a prospect for crores of people around the globe. Small scale businesses are now as popular as office work in today's world; all you want is small scale business ideas. Your small scale business idea may lead you to start the best business under 50000 either from the comfort of your own house or it may be fieldwork, all you need is your time, ample determination, and dedication. And the cherry on the cake is you don't even have to be tense about keeping your Bahi Khata, because OkCredit will take care of it. For more info about OkCredit, visit the official site.
Also read:
1) Best Business in Mumbai
2) Best business in Delhi
3) Best business in Jaipur
4) Best business in Goa
5) Best business under Rs. 50,000
Stay updated with new business ideas & business tips with OkCredit blogs in English, Hindi, Malayalam, Marathi & more!
Download OkCredit now & get rid of your bookkeeping hassles.
OkCredit is 100% Made in India.

FAQs on Business Ideas Under 50,000
Q. What are the best businesses from the very comfort of your home?
Ans: Designing is one of the new business ideas and unique business ideas that you can start from the very comfort of your home, for which you will need some few things which can be easily available at home, like a PC, designing software and designing skills.
Q. How can one promote their small scale business of digital marketing?
Ans: In today's world, almost everyone is very involved on social media. You will advertise your small scale business on social media and by word of mouth until it is up and running. The more you promote your business, the more customers will approach you, and your small scale business will grow.
Q. What is the most important factor to consider when beginning a small scale business?
Ans: In a small scale business promotion is the most important factor. You should publicise it as soon as possible, and you should also consider your target audience so that your promotional strategy can be a success!
---