Doors are in a growing market. From offices to homes, every space has one thing in common—doors. Therefore, it is no surprise that door production is a flourishing industry. Manufacturing doors is an extensive process, especially when they are custom-made for their users. Because a befitting door adds so much to the look of the property, users love to get it custom-made. Study this list of top door manufacturers in India to avoid making a mistake while purchasing a door.
1. Shatabdi Ply
Shatabdi doors are composed of high-quality seasoned wood, making them exceptionally robust. Shatabdi recognises the importance of doors in building projects. As a result, they strive to provide you with the most robust and elegant doors possible. These doors are made to suit everybody's needs and requirements and adhere to the highest quality standards. It is Shatabdis's creative sensibilities that have helped them establish a reputable brand in the extremely competitive plywood business. The company is backed by a highly competent staff of professionals. Their designers and other support staff are well-versed in the manufacturing method, which aids them in producing superior water-resistant wood.
Products Manufactured:
Single-Core Pine Flush Doors
Shatabdi Premium Double Core Flush Door
Readymade Polished Doors
Location: Shatabdi Ply 84/54, Jareeb Chowki, Darshan Purwa, Kanpur, Uttar Pradesh
2. Rehau Door And Window System
Rehau India Pvt. Ltd is a division of Rehau, a German-based uPVC window and door manufacturer best recognised for bringing uPVC solutions to the United Kingdom. It combines the finest of German design with British good manufacturing practices to create one-of-a-kind products. Rehau's doors balance appearance and structure. To assure the highest quality standards, their uPVC door and window installations are only available through a carefully selected network of freelance designers and installers. Rehau is famous for its use of innovative technology to make more environment-friendly houses.
Products manufactured:
uPVC Edgebands
Surface Solutions
Flooring Solutions
Weaving Materials
Solid Surface
Storage Solutions
Plinth Systems
Location: Holewadi, Khed Pabal Road, Tal: Khed, Pune

3. Mangalam Timber Products Limited
Mangalam Timbers offers the most beautiful wooden doors, wardrobes, cabinets, and kitchenettes. They employ plantation timber, waste wood, and agricultural wastes for manufacturing, and they have a highly comprehensive approach. Not only have they established a brand presence as the best door manufacturer in India but they have also expanded their reach across the country. Today, one may be able to locate a storefront by Mangalam Timber easily in his local region.
Products manufactured:
Plain Interior Grade MDF
Plain Exterior Grade MDF
Pre-laminated Interior Grade MDF
Pre-laminated Exterior Grade MDF
HDF
Location: 9/1, R. N. Mukherjee Road, 10th Floor, Kolkata, West Bengal
4. Saina Doors
Saina Doors is a rising force in the creative door industry. They have successfully manufactured and supplied doors to both commercial and residential projects. Cited as experts in the door manufacturing industry, Saina's business focuses on making doors that are one-of-a-kind. They have an unrivaled business style, their most important business decisions being based solely on user satisfaction. They provide inside-door designs, intelligent doors, and many other unique door solutions.
Products manufactured:
Sliding Door Design
Exterior Door Design
Double Door Design
Front Door Design
Smart Door Design
Interior Door Design
Location: Plot No. 40, Sector- 1, Huda Industrial Area, Kurukshetra, Haryana
5. Deceuninck India
Deceuninck is one of the most well-known names in the world. It manufactures a comprehensive line of uPVC profiles and window solutions. For new initiatives and upgrades, Deceuninck India provides a wide choice of white and coloured uPVC profiles. Consumers in India are served through 40 authorised distribution channels. Deceuninck PVC windows and doors are built for energy conservation and convenience, with outstanding thermal energy storage materials, good security, and a pleasing colour palette. The company's products are low-maintenance, long-lasting, and maintain their beauty throughout time, enhancing the visual quality of the areas in which they are installed.
Products manufactured:
UPVC Window Systems
UPVC Door Systems
UPVC Sliding Systems
Location: Paramahansa Yogananda Rd, Appareddipalya, Indiranagar, Bengaluru, Karnataka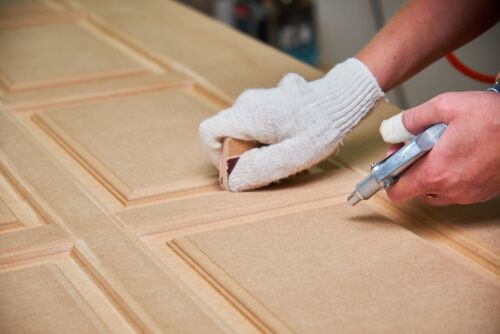 6. Durian Furniture
Durian's product line encompasses a wide variety of doors and door frames that may be modified to meet your individual needs. With over four decades of expertise in the business, Durian is one of India's top door manufacturers in India to offer surface solutions. Durian's strengths stem from its service and product offerings, production efficiency, delivery system, brand recognition, and most importantly, from its youthful and motivated team of experts. They have nine production facilities, supplying goods locally as well as exporting them to over 14 countries. Their goods satisfy the requirements of the Forestry Stewardship Council and are environmentally conscious, thanks to thorough quality control done at all levels of manufacturing.
Products manufactured:
Solid Wood Doors
Solid Moulded Panel Doors
Laminated Moulded Panel Doors
Flush Doors
Moulded Panel Doors
Location: 401 - The Summit, Hanuman Road W.E Highway, Vile Parle(E), Mumbai
7. Doormat
The firm Doormak is based in Jaipur, Rajasthan. They are an Indian designer-door company that is both inventive and exquisite. Every product they create goes through a series of testing before reaching their clients. As one of the leading door manufacturers in India, they adapt to changing trends, strive to meet the customers' requirements, and create simple yet stylish doors that meet those goals. They develop top-quality designs using eco-friendly resources and have cooperated with numerous worldwide firms to enhance their product. Their devotion to preserving ecology is their core competency.
Products manufactured:
Laminated Doors
Membrane Designer Doors
HDI Flat Doors
Neo Classic Doors
Location: Jangid Complex, Near Sunny Trade Center, New Aatish Market, Gopalpura Road, Jaipur
Conclusion
Consumers are becoming more conscious, which has made them increasingly mindful about their decisions. As a result, people have begun to focus on purchasing doors that suit their home's décor. We've compiled a list of the best door manufacturers in India who provide intermediaries and ultimate clients with highly stylish, attractive, and authentic door layouts. As a result of the increased demand, businesses have been forced to come up with new concepts to attract clients. For all types of doors, there are indeed a variety of production materials available. Please check with the makers personally if you have any special demands or restrictions.
Also Read:
1) Spices Manufacturers in India [Top Companies]
2) Top Manufacturing Companies In Mumbai [2022]
3) Pump Manufacturers In India [Best Manufacturers]
4) Artificial Jewellery Manufacturers In India [Top Manufacturers]
5) Cement Manufacturers In India [Top Companies]
Stay updated with new business ideas & business tips with OkCredit blogs in English, Hindi, Malayalam, Marathi & more!
Download OkCredit now & get rid of your bookkeeping hassles.
OkCredit is 100% Made in India.
FAQs
Q. What machinery is used to manufacture doors?
Ans. Tenoners are carpentry machines that make tenons (protruding wooden pieces) that slot into mortises. Tenons and mortises are often used in the building goods sector to create permanent connections for doors, cupboards, windows, etc.
Q. How many different kinds of doors are there?
Ans. In the construction phase, there are 18 different types of doors. Different types of doors are often used in infrastructure projects and are classed based on component placement, construction technique, working processes, and construction elements. The top door manufacturers in India offer a host of varieties when it comes to doors.
Q. How to choose the type of door to use?
Ans. Choosing a door is dependent on the kind of construction and atmosphere you want to build. If you are developing a modern apartment with a view of the park, for example, then you can opt for an aluminum or PVC door that extends out onto the deck. On the other hand, if you enjoy a more traditional style, then high-quality wooden doors will also be a great idea.
Q. Which wood is best for manufacturing doors in India?
Ans. Teak wood is by far the most prevalent type of wood used for making Indian doors and window frames. Teak wood is very versatile and can be used in various ways. Its popularity stems from its longevity as well as its simplicity of maintenance.
Q. What is the purpose of a PVC material door?
Ans. PVC, or polyvinyl chloride, is a perfect material to use for bathroom doors. Wood has porous, natural fibers which may be hard to maintain. PVC doors, on the other hand, give the appearance of painted wooden doors, without using any wood. PVC has been a popular component in the door business due to its low cost, easy maintenance, and versatility.
Q. Is it difficult to establish a door manufacturing company in India?
Ans. Starting a door manufacturing company is difficult, but it is not impossible. From the outset, make a business plan involving your target market, production plan, and sales channel. Create incentives for consumers, lower logistical costs, and employ clever collaborations to identify current gaps in the door manufacturing business.
---