There are several skincare brands in the market, each with a unique set of items. Don't worry if you're perplexed by a variety of skincare companies and can't seem to discover the right product. Here's a rundown of the most well-known skincare brands in India you should be aware of.
1. Lakme
Since its establishment in 1952, Lakme has been regarded as one of the top skincare brands in India. It has a wide selection of skincare products available on the market. The brand's 9 to 5 skincare line is quite popular. The skincare formulae are flawless, and the color palettes are diverse. Furthermore, it strictly adheres to international safety regulations, solidifying its status as the top Indian skincare line in the industry.
Some of the top skincare products are:
Lakme 9 to 5 CC complexion cream
Lakme 9 to 5 Natural CC cream
Lakme 9 to 5 Naturale Aloe Aqua Gel

2. Neutrogena
The Neutrogena skincare collection is sold in more than 70 countries. Neutrogena is a consumer goods company owned by Johnson & Johnson. They have terrific types of equipment as well as a variety of blackheads, anti-acne, and gentle care solutions. They are quite effective while also being relatively inexpensive and gentle on the skin. Their product line comprises a range of products. Their anti-acne foaming cleanser, deep clean foamy cleanser, full clean face wash, deep clean pores unclogging exfoliator, and anti-acne face wash are the finest. The quality and commitment to clients make them the finest skincare brands in India.
Some of the top skincare products are:
Neutrogena Norwegian Formula Body Moisturizer
Neutrogena Ultra Sheer Sunblock SPF 50+ Sunscreen
Neutrogena Triple Moisture Daily Deep Conditioner
Neutrogena Fine Fairness Brightening Serum
3. Himalaya
Mohammed Manal founded Himalaya Drug Corporation in 1930, an Indian global pharma corporation. Himalaya is now a prominent worldwide herbal personal care company with around 500 products distributed in over 100 countries. Both the face cleanser and the pack are extremely cost-efficient and effective. This is a really gentle and relaxing lotion for anyone with sensitive skin who wants to level out their natural color but is on a budget.
Some of the top skincare products are:
Himalaya Cleansing Milk
Himalaya Clarifying Mud Pack
Himalaya Herbals Purifying Neem Scrub
Himalaya Herbals Intensive Moisturising Body Lotion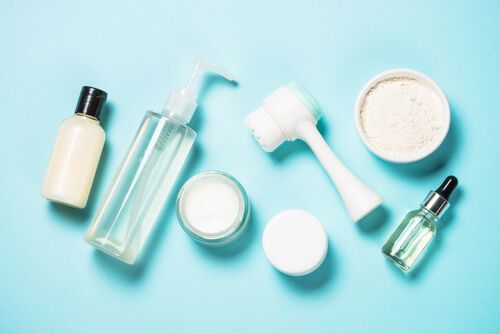 4. Olay
Olay is a cosmetics company established in the United States with product lines such as 'The Total Effects,' 'Perfect Radiance,' and 'Olay vitamins and professionals.' Their whole line is oriented around moisturising and toning the skin. The firm's anti-aging solutions are very popular. It caters to the full range of skincare requirements of persons of all generations and skin issues. Olay is the world's premier cosmetic and one of the greatest skincare brands in India, with results comparable to high-end luxury goods.
Some of the top skincare products are:
Olay Day Cream Total Effects 7 in 1
Olay Day Cream Natural Moisturiser SPF 24
Regenerist Serum
Olay Age Protect Anti-Aging Cream
Also Read: Best Face Cream Brands in India
5. L'Oréal
L'Oréal is the world's major cosmetics corporation and a French personal care brand. In the personal care industry, L'Oréal is known for its cosmetics and skincare. L'Oréal, a global cosmetics giant, is linked with elegance and creativity. They offer high-quality items at all pricing points, from entry-level to high-end professionals. The items are readily available in both offline and online retailers. They also feature a large cosmetics, hair products, and skincare range that is ideal for all-natural skin types.
Some of the top skincare products are:
L'Oréal Paris Revitalift Crystal Micro-Essence With Salicylic Acid for Clear Skin
L'Oreal Paris Skin Perfect 30+ Anti-Fine Lines Cream
L'Oréal Paris Revitalift 1.5% Hyaluronic Acid Face Serum
L'Oreal Paris White Perfect Milky Foam Facewash
Also Read: Best Face Wash Brands in India
6. Biotique
Biotique is among the oldest ecological skincare companies on the market. Vinita Jain established Biotique in 1992. Their organic and Ayurvedic green skincare and hair products are well-known across the Indian market. They have a recipe for combining the potential of technology and Ayurvedic medicine in their line of products. Biotique is chemical-free, as well as anti-cruelty to animals. They sell a variety of items on the market, comprising sunscreens, toners, moisturisers, and much more.
Some of the top skincare products are:
Biotique Bio Rose Pore Tightening Toner
Biotique Bio Papaya Revitalising Tan Removal Scrub
Biotique Bio Fruit Whitening
Biotique Bio Dandelion Visibly Ageless Serum
Also Read: Best Toothpaste Brands in India
7. Nivea
Nivea is among the most well-known skincare brands in India. They include items for both females and males, as well as a wide range of skincare products. Body, face, male or female, and sun are the four basic categories in which skincare products are classified. They have skin-cleansing, nourishing, and protecting products. Infants with dry skin can utilise their lotions. Nivea skincare is free of preservatives and colorants, and it caters to the needs of any skin type, including the most sensitive.
Some of the top skincare products are:
Nivea Body Lotion For Very Dry Skin
Nivea Women Body Wash
Nivea Hand Cream, Soothing Glycerin & Olive
Nivea Deodorant Roll-on
Conclusion
We hope these details of the finest skincare products from the best brands in India will help you make the right choice and bring a welcome change to your skincare routine.
Also Read:
1) Best Mobile Brands in India
2) Best Watch Brands in India
3) Best Speaker Brands in India
4) Best Lipstick Brands In India
5) Best Soap Brands in India
Stay updated with new business ideas & business tips with OkCredit blogs in English, Hindi, Malayalam, Marathi & more!
Download OkCredit now & get rid of your bookkeeping hassles.
OkCredit is 100% Made in India.
FAQs
Q. Should you perform a skincare routine every day?
Ans. It's perfectly fine to skip regular hair and skincare products for a couple of days, as long as you understand what your skin needs and don't lose sight of your skincare goals. At the absolute least, you should avoid skipping a cleaning procedure to prevent dirt, environmental pollutants, and other debris from staying on your skin (and making it lose luster).
Q. What are some must-have skin cares?
Ans. There are several things to consider, even if you're determined to have a basic skincare routine. These are the following:
Use a gentle cleanser daily.
Wear sunscreen at all times.
Moisturise your skin twice a day.
Exfoliate regularly, not every day.
Incorporate an anti-aging product into the mix.
Begin by selecting a facial cleanser that you enjoy and use every night. This is the most crucial stage, since it helps you establish a self-care nighttime habit that will enable you to do something for your skin once you're ready.
Q. What is the difference between a day and night skincare routine?
Ans. Following the recommendations and using the best skincare brands in India at the right time plays a very important role in skincare. Your daytime skincare regimen should focus on protecting your skin from the sun, grime, and pollution, while your evening routine should focus on treating and nourishing your skin.
In other words, daytime skincare focuses on protection and preservation, but nocturnal skincare focuses on addressing skin concerns before the sleep regeneration process begins.
Q. Which is one of the oldest skincare brands in India?
Ans. The brand named after the originator, Shahnaz Husain, was founded in 1970 by businesswoman Shahnaz Husain and is one of the oldest skincare brands in India. Shahnaz Husain's success is largely due to the idea that they have been continually innovating while remaining true to their Ayurvedic principles. They have both vintage jewels that have been with the business since the beginning, as well as modern classics like Oxygen Skin Cream, among their extensive choice of cosmetic items.
Q. Which is the most popular skincare brand in India?
Ans. Lakme is among the most well-known skincare brands in India, and it is owned by Unilever. It was founded by Tata at the request of India's first Prime Minister, Jawaharlal Nehru. It's the most popular and extensively used brand in the nation, and cosmetic professionals like it. HUL (Hindustan Unilever Limited) is an Indian consumer products corporation based in Mumbai. It is a division of the British business Unilever. It is placed first among cosmetics companies in India, with Shraddha Kapoor, Kajal, Kareena Kapoor, and many others as campaign ambassadors.
---